Love It or Leave It, SF Weekly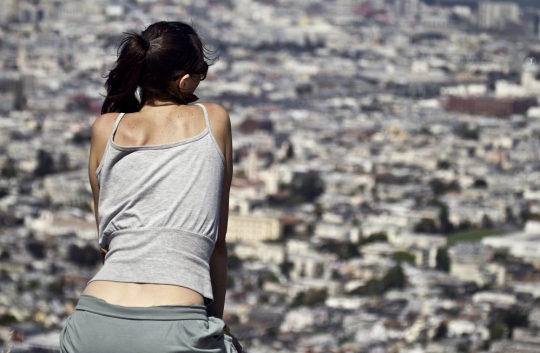 The carpetbaggers over at Village Voice Media, aka, the SF Weekly, have launched an anti-SF hit piece that completely misses the point of San Francisco and why people choose to live here.
Now, like my old buddy, Mat, I hate things about SF – including much of what is covered in this piece. That makes my headline pretty much meaningless – at least I admit that, which is more than the Weekly would do about the one atop the article we're discussing here. More after the jump…

The article starts with the rather disingenuous suggestion that San Francisco sucks because it doesn't enact its biggest progressive ideals:
Despite its good intentions, San Francisco is not leading the country in gay marriage. Despite its good intentions, it is not stopping wars. Despite its spending more money per capita on homelessness than any comparable city, its homeless problem is worse than any comparable city's.
(Do the writers share these intentions, or are they just trying to fool the rare liberal reader into viewing more ads before they snort and put the paper back under the Muni seat where they found it? We'll get to the writers' conservatism later.)
First, let's bite into the article's central (and silly) premise, stated in the form of its headline: "The Worst-Run Big City in the U.S." So, the measure of a big city is in how it is "run," and since SF is a big city awash in political impotence and corruption, it's worthy of being trashed by one of its very own "newspapers."
San Francisco is in many ways not "big," and that's primary to its charm. In terms of population, it barely counts as a big city (it's the U.S.'s 12th largest, right above Jacksonville, FL), which is why it's such a common experience to randomly encounter not only folks you know, but folks you don't know but have just "seen around," as if on a university campus. I love this. It counteracts the anonymity created by one attribute of a big city SF does have – high population density.
It is also chaotic and impossible to "run," exhibiting a visceral form of libertarianism for those who can stomach it. It's getting worn, the conservative refrain of love for the "wildness" of the market, alongside the attitude this article gives off of longing for a daddy-figure to make powerful choices for us, so long as it's in the interest of the right instead of the left.
When it comes to mismanaging a city, San Francisco has pulled a 180 — in half a century, we've gone from "city fathers" (if you liked them) or "oligarchs" (if you didn't) operating with limited input from the people to a hyperdemocracy…

From 1932 until 1996, much of city government was handled by a powerful chief administrative officer (CAO), appointed to a 10-year term and tasked with overseeing the city's largest departments. The job was to take politics out of city management.
Curious. Would they be talking about notorious land speculator Chester MacPhee, appointed CAO in 1958 and who was forced to resign? They probably would, given that he was "in charge" during the administration of Mayor George Christopher, which itself fell in the middle of a corporatist Republican reign that stretched from 1912 to 1964 (it's been Democratic ever since). Ahh, the good old days when there was no democracy, and thus, no corruption!
The writers would have us believe that the middle class here is dying, the population graying, the young fleeing.They quote urbanist Joel Kotkin as saying, "San Francisco is like the really good-looking coed who can get away with being a jerk, while a less good-looking one couldn't."
As long as San Francisco is an alluring destination where residents will tolerate lunacy as a tradeoff for living the city lifestyle, and tourists flood the downtown, the city will lumber along, inefficiently and without accountability.
Well that kind of says it all, doesn't it? It also makes Kotkin's metaphor petty and superfluous. I could just as easily use a different metaphor: "SF is like a really great, caring friend who can get away with having bad habits, while a less-valuable one couldn't."
As I'm sure was intended, this article has lit up right-wing blogs with derision and sanctimony by uptight wankers who, despite macho posturing, fear that which they cannot control.
But in the end, those blogs aren't a big deal, and neither is the SF Weekly. In part, that's because there is a thriving local and nano-local blogging press in SF which the Weekly certainly has an interest in ignoring, but which reflects on a daily basis the infinite ways – many completely unrelated to anything political – by which residents love and discover this little place.
UPDATE: SFBG counters The Weekly with alternate methodology about what SF spends compared to other cities. Guess what they found? Here are their results in chart form.