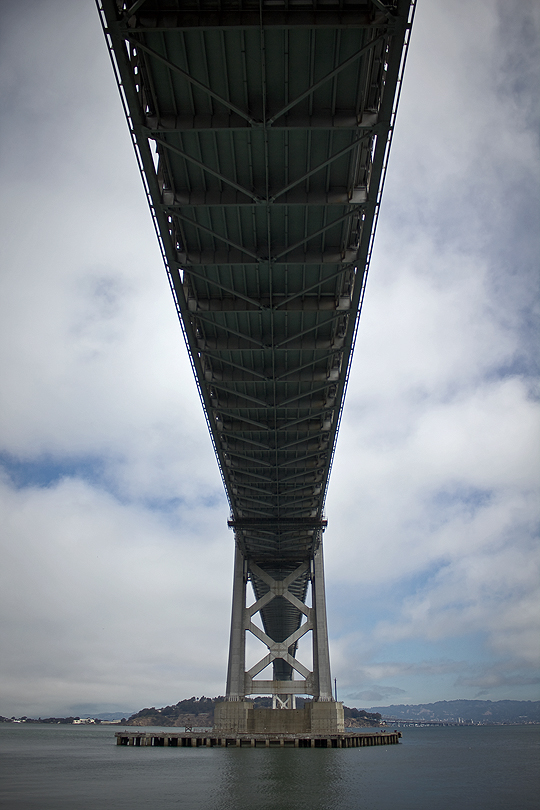 It gave me a funny sort of feeling when I stumbled (OK, climbed and scrambled) onto this spot directly under the Bay Bridge, where it traverses San Francisco's northeastern edge and first passes over water to the initial tower.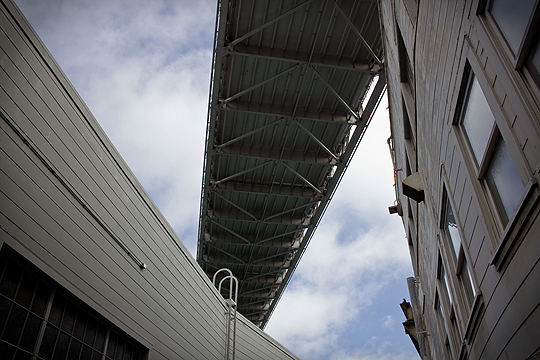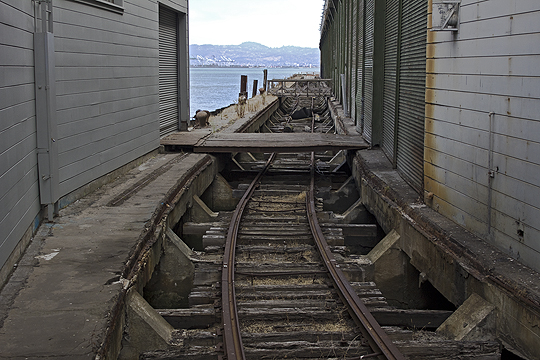 See higher-res versions at the Spots Unknown Flickr pool. And follow SU on Twitter.
Be sure to watch to the end for some sweet irony.
Clearly, the stingray is the star of this video, as it should be. The cruel, matter-of-fact way that the fisherman handles it doesn't seem to lessen its sinister awesomeness.
Perhaps it's a good symbol for this whole area of San Francisco.
This video covers Candlestick Point, Yosemite Slough, South Basin, and India Basin. Stay tuned as we explore the entirety of San Francisco's coastal edges in an ongoing series of vids.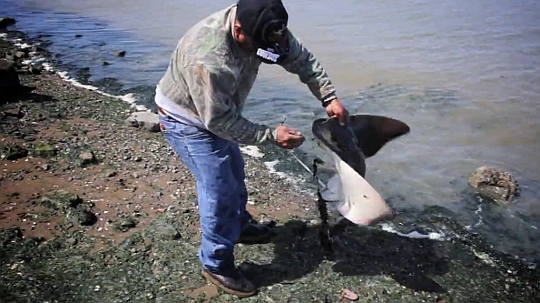 View Spots Unknown Map in a larger map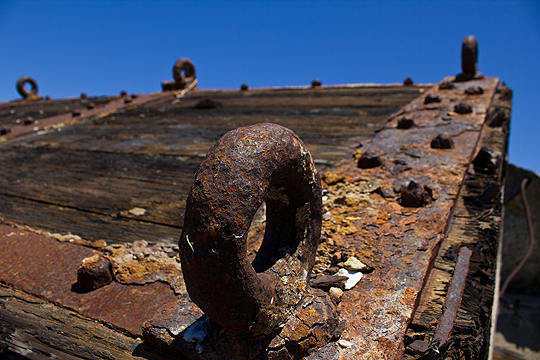 If the posted signs of environmental hazards are to be believed, it's advised that you don't visit the southeast industrial coast of San Francisco.
I was there as part of an ongoing video project, but despite the joys of discovering hulks of decaying artifacts and debris, the warnings about tainted shellfish (not to mention the international sign for "radiation") definitely made me think twice about having crawled through that hole in the fence.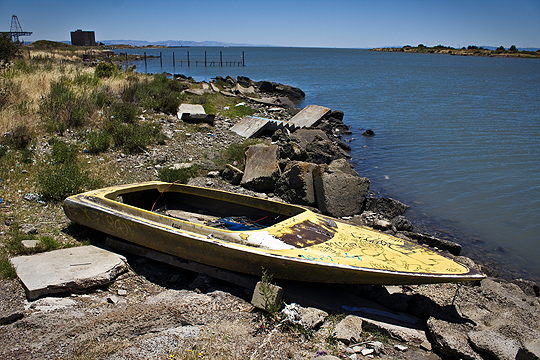 After a few hours in the hot sun I began to think I could taste the toxins in the back of my throat. But surely, the hazard was overblown. Just look at all the water fowl, feasting on organisms that have marinaded in the same stuff I'm stepping in. They seem fine, and I'm more robust than a sea gull, even at my age.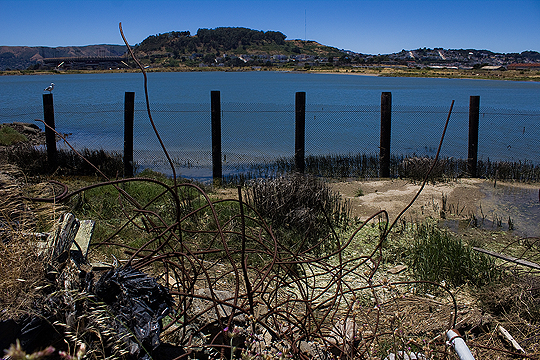 I reminded myself that I'd begun my own trip that day at Candlestick Point Recreation Area just to the south, which bears no such pollution signs, and come on: you gonna tell me the fishermen there weren't reeling in fish that had also swum through these tainted waters?
Still, I was glad when I reached (relatively) clean asphalt again.
Photos from the Spots Unknown Flickr pool.

View Spots Unknown Map in a larger map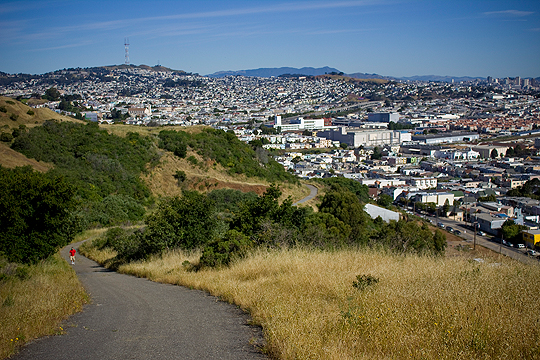 With the mild renaissance of Candlestick Point Recreation Area, you'd think there would be more interest in the conspicuous hill that juts up from the far side of the football stadium. It's called Bayview Park (or Bayview Hill, alternatively), and it sacrificed its eastern slopes in the 1950s as fill on which to plant the arena.
It has suffered from neglect and harsh urbanization throughout its history, and it it's barely appreciated even now by San Francisco residents, despite its natural beauty and kickass vistas. But it is getting attention by some for its high diversity of native plant species, including coastal scrub, oak groves, and the largest population of rare Islais cherry trees around.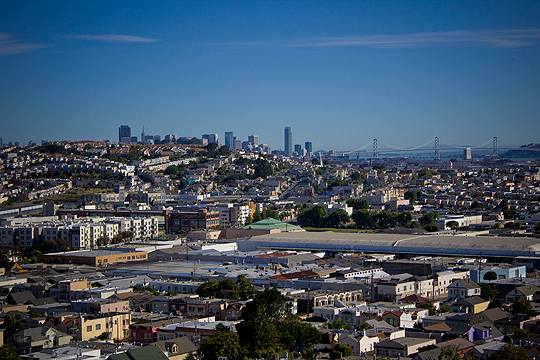 There are also a number of area and migratory birds that frequent the hill; I spotted a big, fat Horned Owl when I went last weekend.
I also went off-trail a bit and discovered the ruins of a makeshift structure: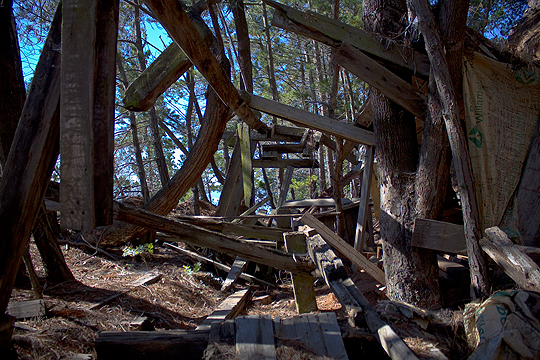 I don't know if it was a kid's fort or a homeless encampment, but it was cool. I'm not gonna tell you exactly how to find it - because what fun would that be? - but if you decide to go looking, be sure to wear shoes with some tread.
For anyone who claims to be fan of SF's hilltops, this spot simply must be visited and explored.

View Spots Unknown Map in a larger map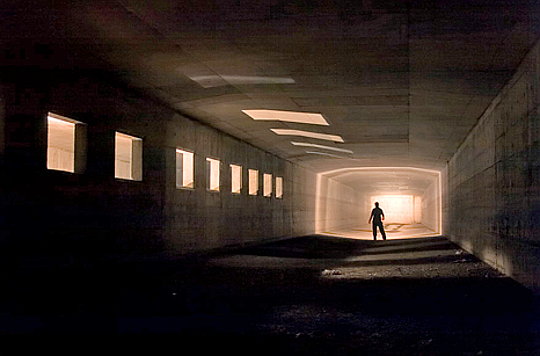 A friend recently sent me an email with a link to this single-serving site for something called "The Flâneur Society" - based in San Francisco - where I was greeted by messages like these:
THE CITY IS YOUR FOREST
WHAT IF THERE WAS NO POINT B?
The Society provides a PDF book title, Guide to Getting Lost. Fun stuff.
That's all it took: a short while later, I fell into a rabbit hole of mental confusion and frantic Googling. It quickly became clear how the 19th Century concept of a flâneur went beyond the simple definition offered by the site above - "one who wanders without destination" - and in fact intersected with tourism, street photography, infiltration, and graffiti art - which in turn became points along a spectrum from passive awareness to deviant appropriation and expression. More after the jump...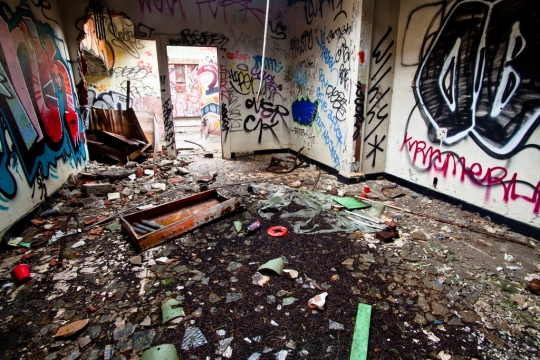 So thinks the photographer, Troy Holden.
From the Flickr set:
After years of deterioration and absence of modern operational systems, the [Fleishacker] pool did not meet health and safety standards and closed in 1971. Consideration was given to refurbishing and reopening the historic landmark, but usage studies showed low interest, and the high annual operating costs could not be offset with the expected revenue. In 1999, the San Francisco Zoological Society was granted ownership of the pool house, and it is not known what might become of it. The swimming pool itself was filled with rocks and gravel, with the space now serving as a parking lot for the zoo.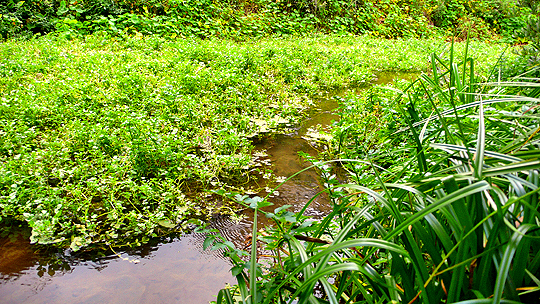 Fed by the same aquifer, but not directly connected, these bodies of water are special parts of the San Francisco watershed near the Presidio.
More after the jump...
UPDATE 4/14/2010: Via Matt Baume, from StreetsBlog:
The PUC ... proposes to terminate the creek in a manufactured wetland at the western end of Islais Creek Channel. The area is currently an asphalt lot just down the street from the headquarters of Mythbusters, used occasionally to store vehicles.
This would be a fantastic and appropriate honor for this spot. (And there is still more than just asphalt here!)
Once upon a time in 2001, there was a tiny plot of shoreline, Muwekma Ohlone Park and Wildlife Sanctuary, named after the native people who once populated the San Francisco peninsula. Guerrilla gardeners had, for years, nurtured this vestige of unlikely marshland amidst the industrial zone near Hunters Point.
More after the jump...