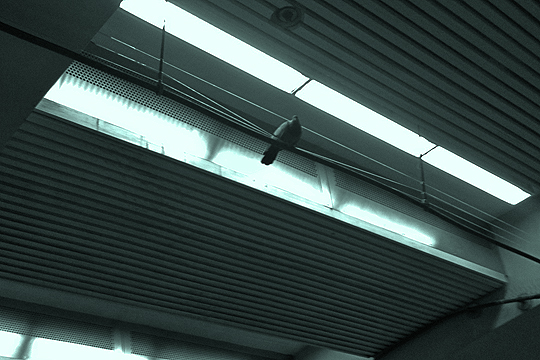 ...for me to poop on!
(Spotted@ 16th/Mission BART.)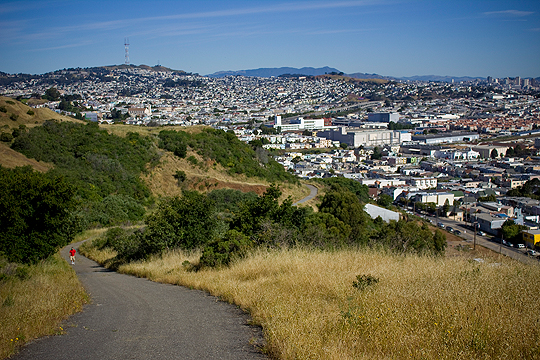 With the mild renaissance of Candlestick Point Recreation Area, you'd think there would be more interest in the conspicuous hill that juts up from the far side of the football stadium. It's called Bayview Park (or Bayview Hill, alternatively), and it sacrificed its eastern slopes in the 1950s as fill on which to plant the arena.
It has suffered from neglect and harsh urbanization throughout its history, and it it's barely appreciated even now by San Francisco residents, despite its natural beauty and kickass vistas. But it is getting attention by some for its high diversity of native plant species, including coastal scrub, oak groves, and the largest population of rare Islais cherry trees around.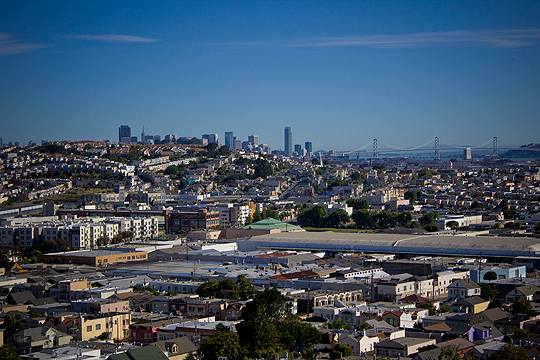 There are also a number of area and migratory birds that frequent the hill; I spotted a big, fat Horned Owl when I went last weekend.
I also went off-trail a bit and discovered the ruins of a makeshift structure: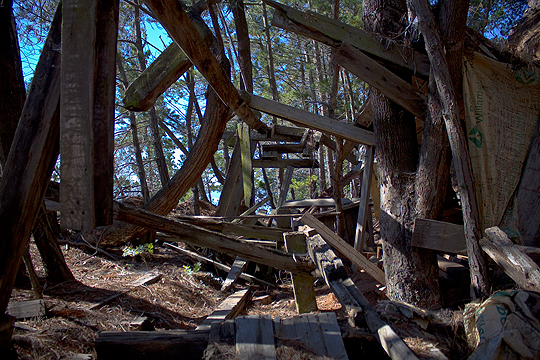 I don't know if it was a kid's fort or a homeless encampment, but it was cool. I'm not gonna tell you exactly how to find it - because what fun would that be? - but if you decide to go looking, be sure to wear shoes with some tread.
For anyone who claims to be fan of SF's hilltops, this spot simply must be visited and explored.

View Spots Unknown Map in a larger map

Photo by MrEricSir
This is some pretty funny shit:
They were initially interested in me, but when I failed to produce food they got into some civil unrest over who got to sit on which paper plate.
(More pics @)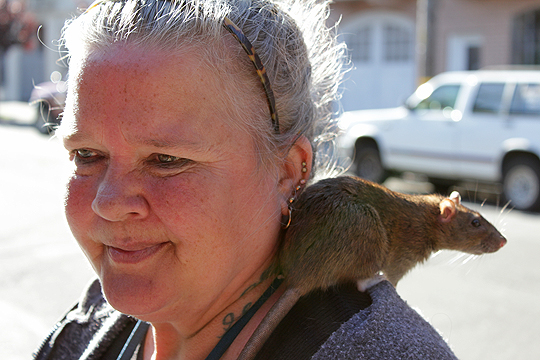 Marlena Vasquez and her pal, Bonita, on 19th at Mission, 8:45am this morning.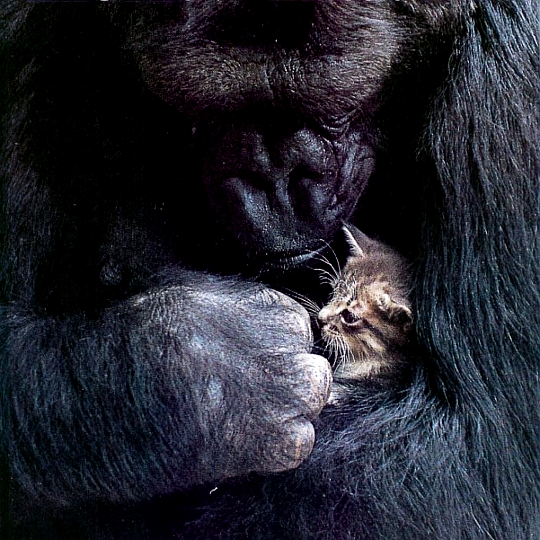 Koko the gorilla was born in the San Francisco Zoo, and is famous for learning sign language. The other thing she's famous for is keeping pets - namely, kittens.
Below is video of Koko choosing a new pet kitten, donated by the San Francisco Humane Society, on March 10th. But while viewing this sweet scene, I noticed something that has me confused and a little bit concerned.
On YouTube alone, I see reference to at least 3 different kittens (All Ball, Moe, and Tigger), with zero videos of any adult cats.
Kittens are cuter than adult cats, I admit. But if Koko is ruthlessly going through these adorable little fuzzballs like so many living toys, I think that suggests something a lot of us might not be comfortable with.
Like, maybe kittens are as tasty as they are cute?
UPDATE: Eve at SF Appeal informs me of this:
Koko was very gentle with all of her cat friends.. She cared for her
kittens as she would her own tiny gorilla baby, cradling them gently
in her arms and carrying them on her back. She has never harmed them,
even when they scratch or bite, as kittens sometimes do.
Still, that quote reminds me of this: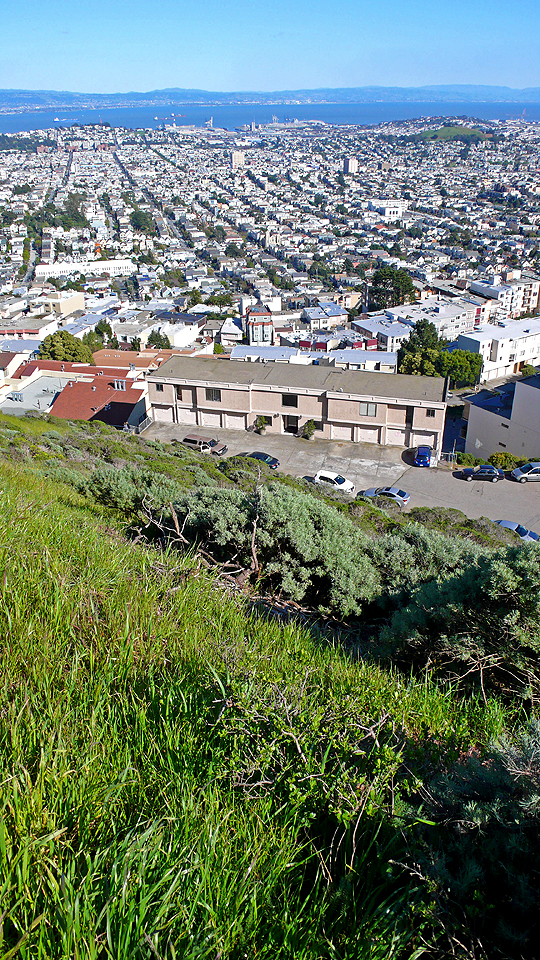 If you've got half a day some weekend or holiday, and you like a moderately challenging hike, this easily-accessed, 4.5-mile route with a 900 ft. elevation means you don't have to leave the city of San Francisco. Details after the jump...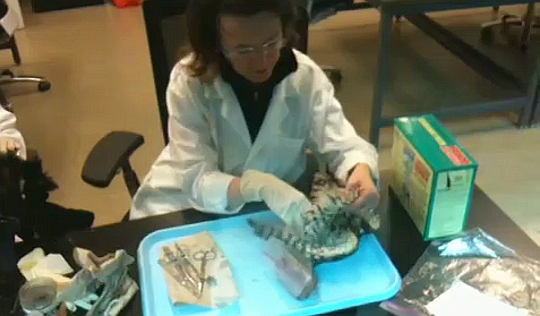 So this happened while in line for the rain forest at the California Academy of Sciences a few weeks back. It was a Thursday "adults only" Night Life event. I guess they're "treating" a crow and some sort of falcon or small hawk. Video after the jump...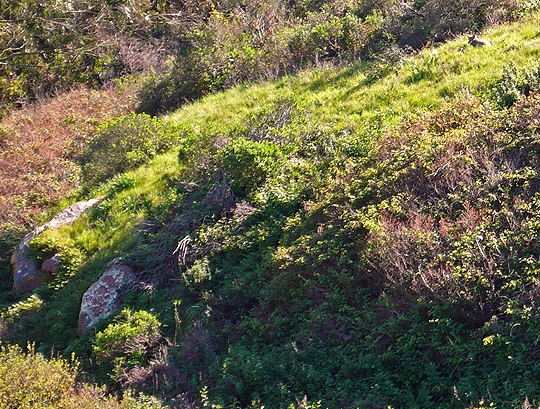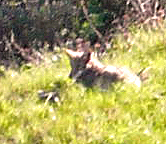 I don't usually have a need for a telephoto lens, but on Saturday while hiking across some of San Francisco's biggest hilltops, I spotted a coyote in a park. It made me think more seriously about moving beyond my digital point and shoot camera, to SLR, with at least one good telephoto lens.
So, with tax refund season upon us, I guess I'm in the market for a <$1k rig. I've been looking at the Canon T1i and the Nikon D5000. Anyone have opinions on one or both of these? Are there other competitors in this class I should be tracking? Let me have it in the comments.
Why on God's green earth did anyone dream up this 1938 stunt? To quote the narrator, "Your guess is as good as mine."
This poor horse chased a handful of sugar and towed a fat, useless human named "Shorty Roberts," as it swam the Golden Gate just to settle a bet about whether horses can swim:
The swim took 23 minutes and 15 seconds---an hour less than it had taken an Olympic swimmer. When Blackie and Shorty arrived in SF, the SPCA was waiting, but admitted that Shorty looked much worse than the horse and didn't cite him. Shorty always insisted that the horse loved swimming in the bay.
Sure he did, and why not?
(Spotted@)
Recommended book: Historic Photos of San Francisco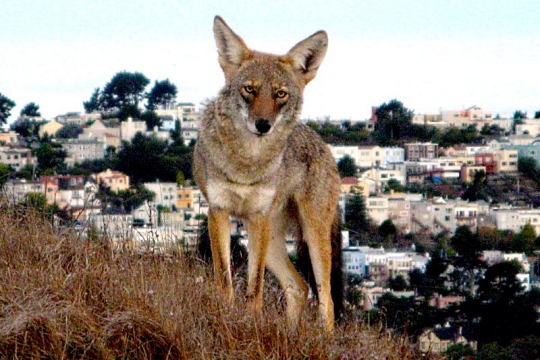 I guess I've been a little behind in the city's coyote news. I know of its presence in the Presidio, Golden Gate Park, Glen Park, and Bernal Hill, sometimes with lethal consequences. But until my girlfriend gave me a small self-printed booklet from (of course) Dog Eared Books, I was unaware that there was a coyote on Twin Peaks.
Aside from the author's account, I've been unable to find any mention of this urban canine carnivore. Have you seen it? Can you point to any online resources about it? I hope it has fared better than some of the others.
And, if you get a chance, don't miss the KQED special, "Wild at Heart," about SF's urban wildlife. Here's a trailer from a derivative DVD:
Hey, clueless Twitter guy who works at the zoo, not only are you a big doofus, but that "third eyelid"? When the penguin winks it, that means he knows you stole the idea from him. Watch your back at feeding time. Payback's a bitch.