Hillapalooza – an Urban Hike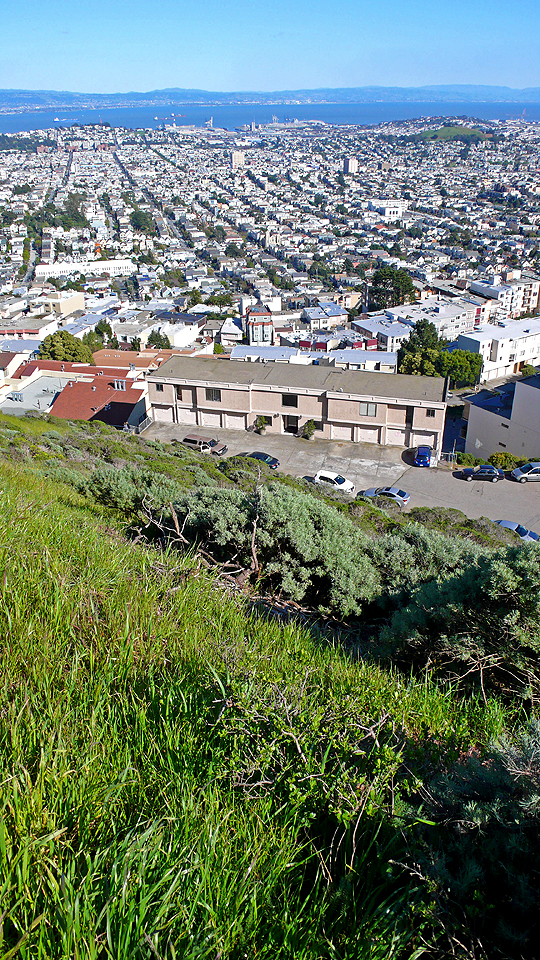 If you've got half a day some weekend or holiday, and you like a moderately challenging hike, this easily-accessed, 4.5-mile route with a 900 ft. elevation means you don't have to leave the city of San Francisco. Details after the jump…

Every so often I hit some of these hilltops, but if you're gonna do one, I've discovered you might as well do them all. If followed in this order, these recommended spots – some familiar and some relatively unknown – provide a deceptively easy (though at times steep) ascent to the top of San Francisco, with tons of ridiculous vistas and quite a bit of wildlife. You can easily build a topo map in your head if you're mindful of landmarks along the way – and the "greats" are all there, so no excuses.
BONUS: I published this as a Gowalla trip for those who want to score some points on their smart phones in the process (battling AT&T's coverage is at least as challenging as the uphill climb).

View Spots Unknown – "Hillapalooza" in a larger map
1. Glen Park BART station
Yes, Glen Park is "in the city," I admit it. A Fast Pass gets you there, so I guess that's proof enough for me. Find a corner market and stock up on trail mix and fluids.
2. Islais Creek underground
Near Diamond and Chenery, you'll be standing on top of what used to be the natural course of Islais Creek. Put your ear close to a manhole or sewer grate. Hear rushing water? Yeah, that's it. (Unless it's currently raining, in which case it's also storm runoff.)
3. Islais Creek source
There is a lot to love about Glen Canyon Park, and the fact that it's now the last place where Islais Creek is in daylight and runs "naturally" is just one reason why GCP rocks. (Also, cool rocks!)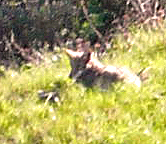 4. Glen Canyon Park ascent
There are a few paths to get you to the top of the Canyon, in open air or under riparian cover. (Bonus points if you find the rope swing.) It gets muddy in places if it's rained recently, but the payoff is worth it – a broad view of the whole park from where to spot wildlife like hawks, butterflies, and if you're ultra-lucky, a coyote.
5. Stilt Houses
Just when you thought you'd seen all the different architecture San Francisco could throw at you… These freaks sit high above GCP, and really get you wondering.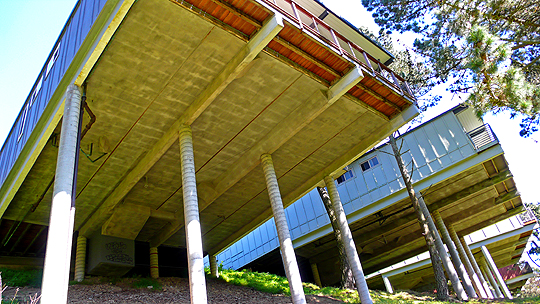 6. Twin Peaks
Hard to miss these. Did you know that they used to be called "Los Pechos de la Choco"? Translation: "Chocolate Breasts." Seriously, it's true, according to this old map: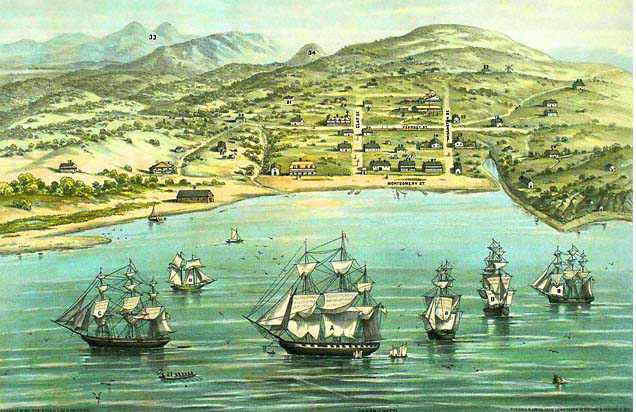 7. Twin Peaks Reservoir
You can see this from the perch, but go ahead and walk up next to it. Sometimes there are a couple of cute little ducks paddling around in it.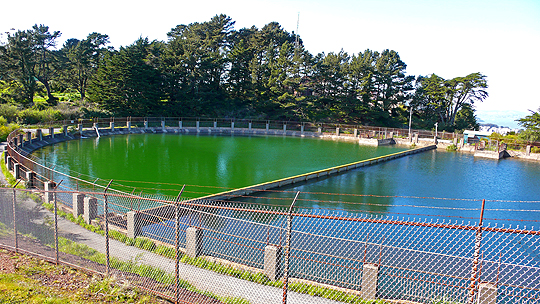 8. Sutro Tower
This is probably the most visible landmark in the city, and for a radio tower, it's pretty badass, right? It's especially imposing when you're right below it. Note the ravens near the top.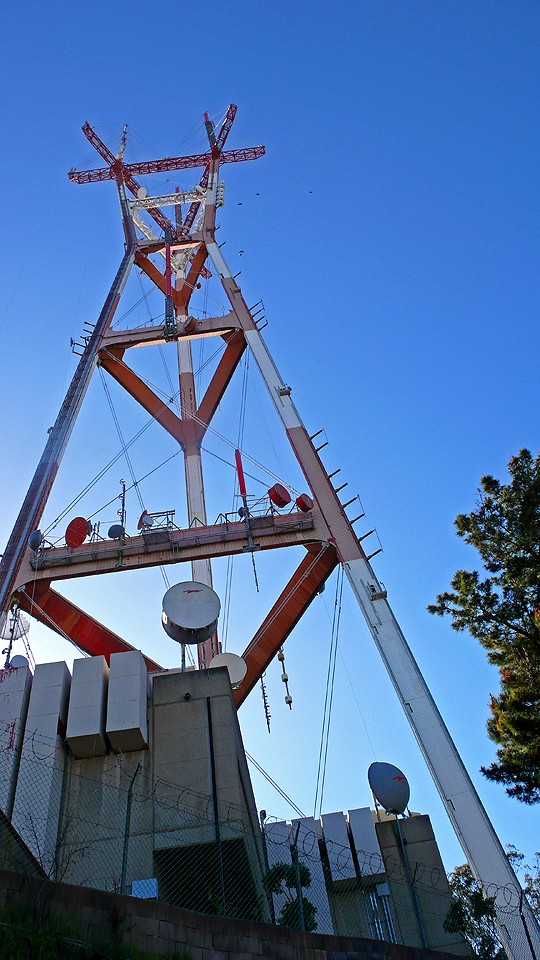 9. Sexy Homes
Continuing the theme of architectural styles you may have missed, there are several really sweet homes between Twin Peaks and Tank Hill that are worth seeing. This one had a moss garden in front, and a mote: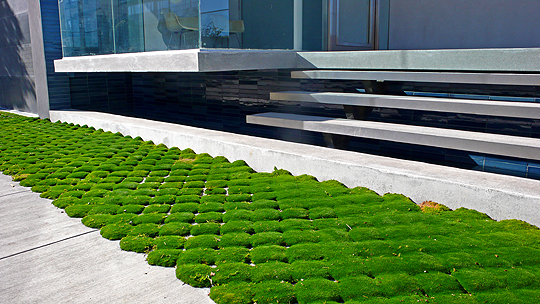 10. Tank Hill
Someone once told me that the water tank the hill is named for, and whose circular cement foundation is still there, was removed to deny a bombing target to the Japanese in WWII, but it seems it was taken down long after the War was over.
11. Mt. Olympus
I just learned about this spot after 14 years living in the city (thanks, Patrick!). It was once the geographical center of the city and it still bears the remains of a statue installed by Adolf Sutro. What's with this Sutro guy, you ask? Dude's got a forest, a tower, and some ruins named after him – now this! It's a good question!
12. Buena Vista Park
If you have extra time, you should follow some of the trails in this park. There are a few spots where the trees part for pretty views, but it's also just a nice little forest. Also, the body of a widow was found there in the '80s.
13. Corona Heights
You'll probably spot this from a few other hilltops along the hike, and when you get there, it's as special as it looks from afar.
14. Randall Junior Museum
Be sure to visit this place if it's not Sunday or Monday (they're closed), because even though it's advertised as "for kids," it's pretty punk rock. They have a small zoo of mostly rescued area wildlife, including birds of prey, snakes, and honeybees. Also, there's a massive, kickass, HO-scale train display in the basement (it closes at 4pm). And, as a penance for posting the video of dead birds a few days back, here ya go:
PARTING NOTE: If you wanted to go "extreme" with this hike, you could add Mt. Davidson (the highest peak in the city) and Mt. Sutro (there's a great native plant reserve at the top). Go for it!