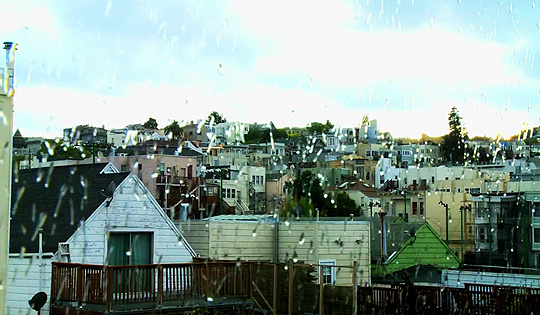 Time lapse is all over the place, and it's refreshing to see even small variations on the form. I like the acceptance of the change in light levels in this video, and the play of water on the window. Rough and pretty. A film by KACHO--Little Cinema: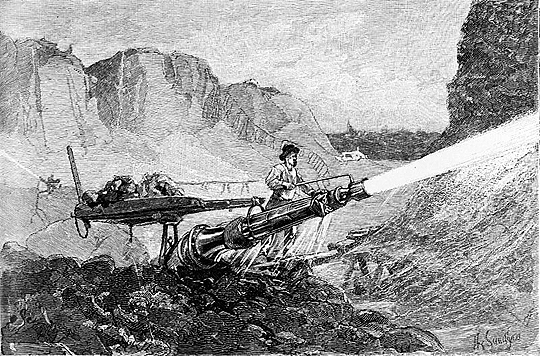 KQED's Quest blog tells a story: In Gold Rush times, monied interests quickly depleted the gold deposits on the surface and in the rivers. So, they invented honking water cannons and blasted away canyon walls and hillsides.
The resulting sludge drained into the Sacramento and San Joaquin Rivers where it was strained of the gold. Remaining sediment and water was sent into the Central Valley to flood farmland and generally lay waste to ecological systems as far West as the San Francisco Bay. We've suffered that pollution ever since.
But, good news! A tipping point has been reached, and Bay waters are 30% clearer now than just 10 years ago. But...
There is always a "but." The lack of sediment from hydraulic mining could cause us extra trouble when sea levels rise from global warming.
What I find fascinating, yet also extremely challenging, is how the choices we've made as a civilization over the decades and centuries combine and sum to create the issues we face right now. There are no simple answers. Regardless of how well-intentioned some environmental programs may be there will always be some uncertainty about how natural systems respond.
None of us could enjoy the land we call California without the Gold Rush. Which makes it all the more frustrating to learn about the bad behavior of the nasty dudes who made it all possible.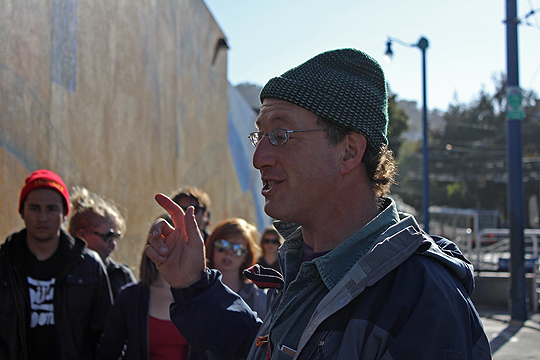 On the recommendation of Haighteration blog, I took the ThinkWalks walking tour of the Wiggle on Thursday evening.
Guide Joel Pomerantz was bursting with knowledge about the history of the bike route, going all the way back to pre-colonial times (no, the Ohlones didn't have bikes, but they supposedly followed the same route when walking), and also is an expert on San Francisco generally. Notably, he charmed a random anarchist on a BMX who tried to sieze control of the crowd at one point - the kid ended up sitting and listening for a bit, before bumping fists with Joel, screaming, "Anarchy in the USA!" and riding off.
I enjoyed Joel's thoughts on SF's hidden waterways (an ongoing obsession of this blog), and especially his warnings that when the 100-year storm hits, the MUNI tunnel, tubes, and grates in the Duboce/Church/Market St corridor will quickly submerge, forming an underground river that will rush across the Bay and produce a geyser on the other end in Oakland! Great stuff.
There was an impressively low median age on the free tour, and it was almost all locals. (Hey, passers-by who snickered, "tourists" under your breath - suck it, joke's on you.)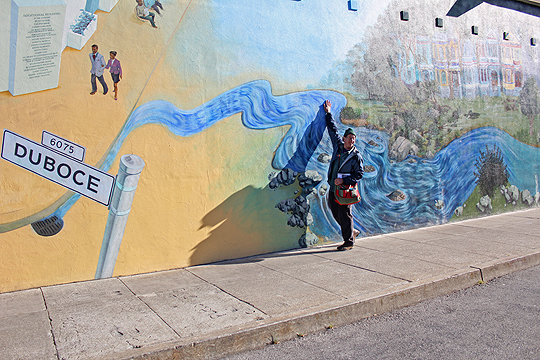 We met up at the Wiggle mural on the backside of Safeway, and there I became fixated with the fantastic diversity of traffic that converges at the Church/Duboce intersection. I've lived in this neighborhood and walked through this spot millions of times, but you get a totally different feel for it when you linger in this spot for a bit, especially at rush hour.
Bonus time lapse video below:
Clearly, the stingray is the star of this video, as it should be. The cruel, matter-of-fact way that the fisherman handles it doesn't seem to lessen its sinister awesomeness.
Perhaps it's a good symbol for this whole area of San Francisco.
This video covers Candlestick Point, Yosemite Slough, South Basin, and India Basin. Stay tuned as we explore the entirety of San Francisco's coastal edges in an ongoing series of vids.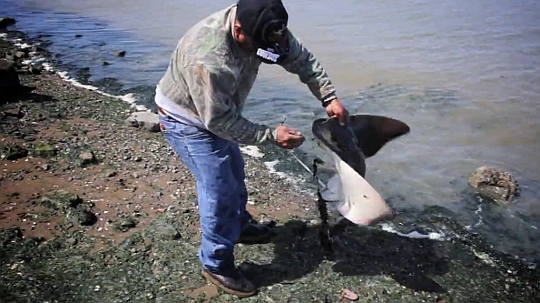 View Spots Unknown Map in a larger map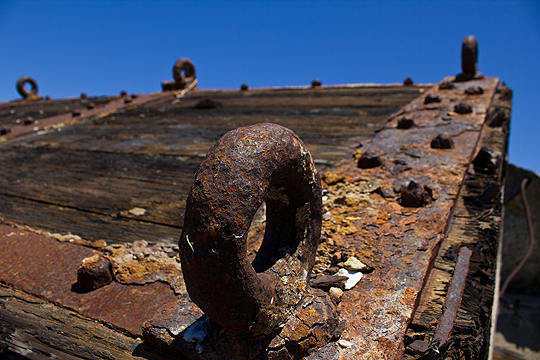 If the posted signs of environmental hazards are to be believed, it's advised that you don't visit the southeast industrial coast of San Francisco.
I was there as part of an ongoing video project, but despite the joys of discovering hulks of decaying artifacts and debris, the warnings about tainted shellfish (not to mention the international sign for "radiation") definitely made me think twice about having crawled through that hole in the fence.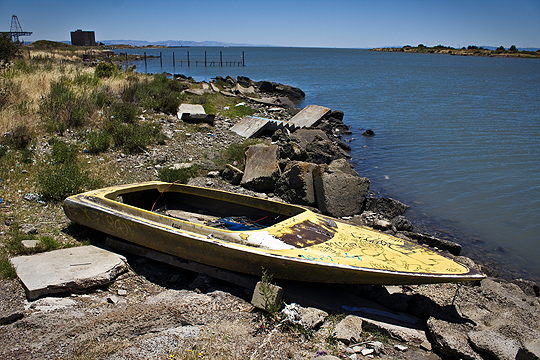 After a few hours in the hot sun I began to think I could taste the toxins in the back of my throat. But surely, the hazard was overblown. Just look at all the water fowl, feasting on organisms that have marinaded in the same stuff I'm stepping in. They seem fine, and I'm more robust than a sea gull, even at my age.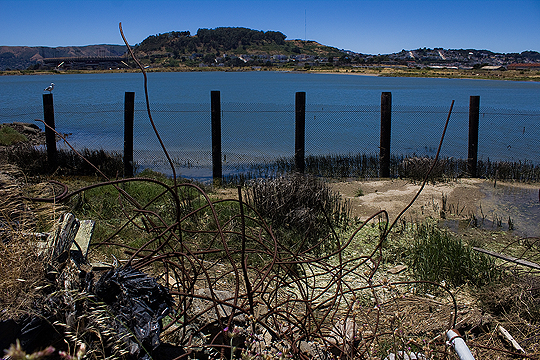 I reminded myself that I'd begun my own trip that day at Candlestick Point Recreation Area just to the south, which bears no such pollution signs, and come on: you gonna tell me the fishermen there weren't reeling in fish that had also swum through these tainted waters?
Still, I was glad when I reached (relatively) clean asphalt again.
Photos from the Spots Unknown Flickr pool.

View Spots Unknown Map in a larger map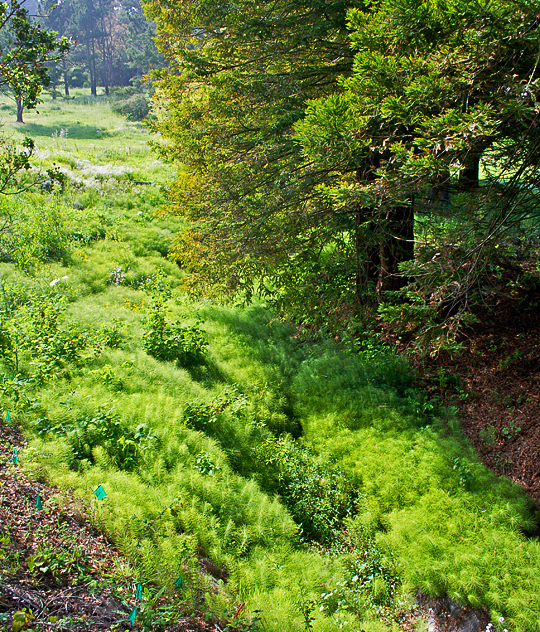 "Nothing in the world is more flexible and yielding than water. Yet when it attacks the firm and the strong, none can withstand it, because they have no way to change it." --Lao Tzu
There's something about San Francisco's bodies of water that people just can't resist. We abuse them, we bury them, we fill them in with rubble and toxins - and then finally when we realize the error of our ways, if we're lucky we can pull them back from the brink.
Consider Yosemite Creek, a small but crucial part of the city's watershed. The creek's entire trip, from McLaren Park to Bayview, takes place in aging underground pipes. But it may not always be that way: the Public Utilities Commission is exploring nifty new ways to "daylight" the creek, ranging from creating new parks to placing watery channels alongside city streets.
The Marsh
Poor McLaren Park. It has a name, but sometimes it seems to lack an identity. Way out in the Excelsior - or is it Portola? - it boasts a head-spinning array of amenities: tennis and basketball courts, a pool, dog run areas galore, barbecue pits and an amphitheater, woodsy trails, and possibly soon a disc-golf course.
But among the Park's distinguishing features, a spot called Yosemite Marsh may be the most unique. Unlike two nearby asphalt-contained bodies of water - one a reservoir, the other McNab Lake - Yosemite Marsh is a naturally-occurring wetland.
You could be forgiven for walking right by without noticing it. It's small, and hidden by a thicket of trees. A wooden footbridge crosses through the thicket, spanning a thin gully. Nearby, and for no discernable reason, a concrete sculpture of a dolphin sits across from an always-empty park bench.
At this time of year, the creek is nearly completely dry; but during the rainy season, a steady stream of water emerges from the hillside to feed the marsh. The marsh, in turn, provides habitat to herons, quail, ducks, bullfrogs, lizards, and (thrillingly) wrentits.
Formerly a bit run-down, the Marsh enjoyed an extreme makeover in 2006 [PDF]. The most prominent upgrades are a nice footpath and seating, but there are more infrastructural improvements under the hood: erosion control, enlarged banks, and enhanced wetland plantings, thanks to a $150,000 grant and $150,000 in Rec & Park Department Funds. With riparian rehab projects such as this, it can take five to ten years for plants to mature; the hillside above the marsh still looks a bit scraggly, but you can definitely see where it's growing in.
Hal Phillips put together this very "electric" edit of footage we shot recently at the marsh:
There's still lots of work to be done elsewhere in the park. McLaren is currently in the running for a $30,000 grant from Sears (yes, Sears) to improve a particularly unkempt northern entrance to the park.
Of course, the marsh isn't the only moisture in the area. Various trickles of water can be found throughout the park. (And in fact, I carelessly stepped into one up to my ankle when I visited after a rainstorm.) Why is McLaren so wet? Bedrock. Soil is slow to discharge moisture, so water tends to hang around a bit.
And when the water finally does trickle out of the park, it has quite a trip ahead of it. From McLaren, it winds its way underground past University Mound Reservoir under Portola and the Phillip Burton Academic School, under the 101 and the 3rd Street light rail, and then finally aligning itself with Yosemite Ave - its namesake - before emptying into the South Basin in an area known as Yosemite Slough.
The Slough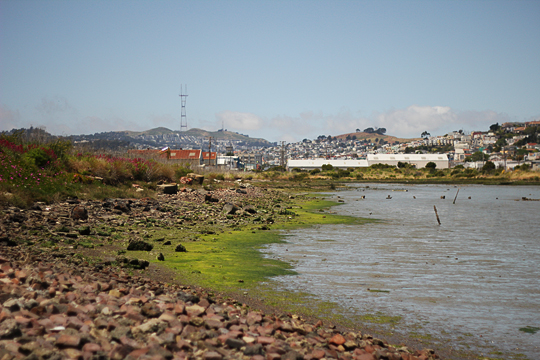 The most complicated step in Yosemite Creek's journey lies at the very end, in Yosemite Slough. It's a highly sensitive ecological area, decimated by decades of heavy industry. But there's reason for hope: a massive environmental restoration is underway [PDF], featuring the planting of thousands of native species, soil remediation, and habitat construction.
But it is only hope at this point. As the video below shows, the area is currently an industrial dumping area. (The song is "33" by David Molina's Ghosts and Strings.)
It's not exactly an easy spot to access, and lord knows it's toxic in several different ways; we've done the exploring so you don't have to.
The Slough is part of Candlestick Point State Recreation Area, which in general is well worth a visit. Don't let the unseemly history scare you off. Yes, legend has it that it got its name because of all the burning abandoned ships nearby. And yes, for years it was used as a landfill. Okay, and the Navy didn't exactly take great care of it during WWII.
But! You can't beat that view. And apparently the birds agree: there's no better place in San Francisco for spotting herons, loons, egrets, and avocet than nearby Heron's Head Park. Environmental cleanup - much of it led by students - is gradually turning the area from a garbade dump to prime real estate.
With Yosemite Marsh stronger than ever, Yosemite Slough on the mend, and Yosemite Creek facing a new lease on life, there's never been a better time to thank San Francisco's watershed for sticking with us through thick and thin.
Matt Baume is a San Francisco writer and photographer covering transit, ecology, and the science of cities.

View Spots Unknown Map in a larger map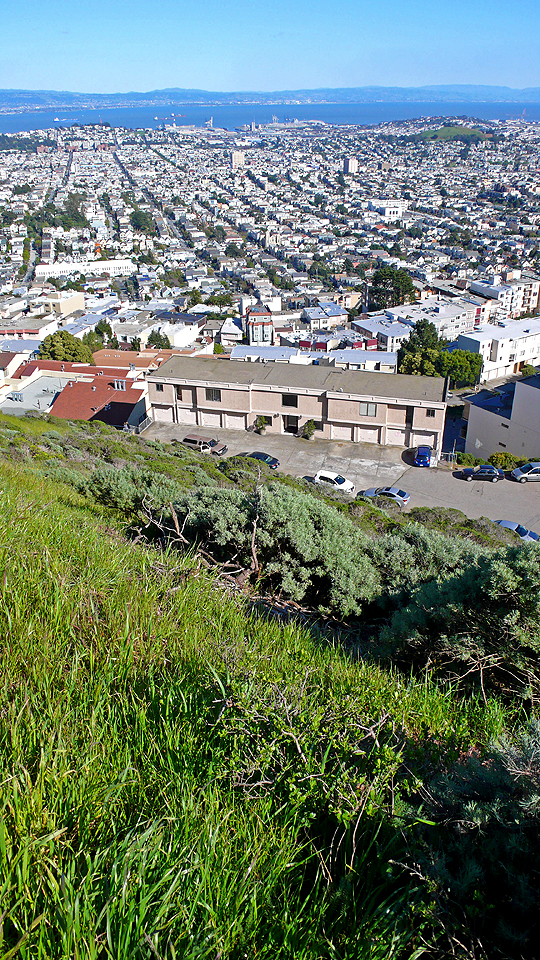 If you've got half a day some weekend or holiday, and you like a moderately challenging hike, this easily-accessed, 4.5-mile route with a 900 ft. elevation means you don't have to leave the city of San Francisco. Details after the jump...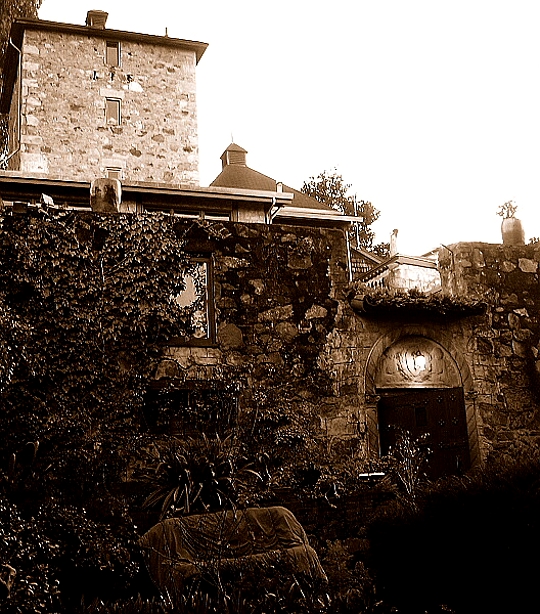 In 1870, an enterprising English immigrant to San Francisco built a castle home on top of a secret cavern spring and used its cold, pure water to brew beer.
Albion Porter & Ale Brewery lasted until 1919 when Prohibition forced it to close. It was resurrected in 1928 as Albion Water Company, selling bottled water, which it did until 1947.
It was almost destroyed to make room for a freeway in 1961, but survived. It stands today on its original spot in Hunter's Point. The caverns still exist as well, and the spring generates 10,000 gallons of fresh water every day, which empties into the Bay. (The castle once served as the office for Laughing Squid's web hosting tech support crew.)
It went up for sale in September 2009 as a private residence for $2.9 million. Does anyone know its current status?
Here are some brand new photos of the caverns, posted to the Oakland Museum of California's Facebook page.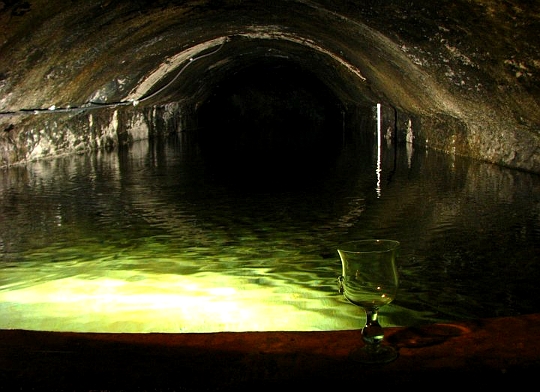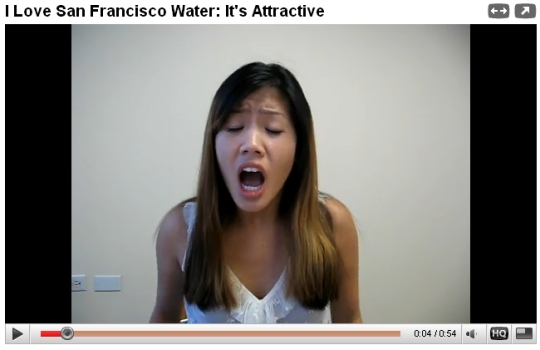 Sure, the winner of SFPUC's video water conservation contest is getting all the glory, but is that fair? I say, no! What of the other finalists? Video after the jump...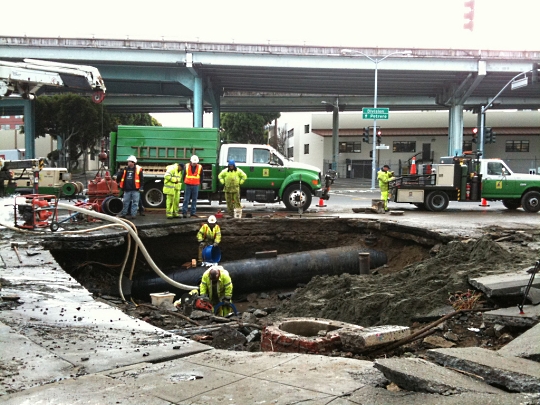 The SF Public Utilities Commission just tweeted that another water main has broken, this time near Crescent Ave. and Banks Street.
This on the heels of a sinkhole South of Market, which was just repaired yesterday but which caused brown water to flow from the taps of nearby residents.
I'm not gonna go on too much here, but just allow me a friendly reminder...
Heard the jackhammers lately?
The city is forcing property owners to rip up and replace the busted sidewalk squares that front their buildings. But they don't have to be replaced with the same old, boring slabs. The sidewalk in front of your residence could look more like these.
DPW's Bureau of Urban Forestry issues low-cost permits allowing property owners to convert a portion of their sidewalk into an attractive landscaped area.
Even better, this recently came across the @SpotsUnknown Twitter feed:
FREE SIDEWALK LANDSCAPING DESIGN & INSTALLATION

In the Sunset District sidewalk gardens can not only make our streetscapes beautiful but also help recharge the aquifer and reduce sewer overflow contamination of the ocean.

Plant*SF and the San Francisco Parks Trust are offering the free installation of a demonstration sidewalk landscaping garden in the Sunset District using native and drought tolerant plants and permeable pavers. Corner properties are especially encouraged to apply.

To have a property be considered to receive free sidewalk landscaping, interested parties should email their contact information and property address to info@PlantSF.org by 5pm December 10, 2009. See PlantSF.org for examples of sidewalk gardens.

Funding for this project comes from the City of San Francisco Community Challenge Grant Program (CCG) with sponsorship from the San Francisco Public Utilities Commission.
Outside of the Sunset District, there is a robust community of city eco-nerds who will help you design and install a sustainable sidewalk garden no matter where in the city you live. Start at the Plant*SF and Nature In The City websites.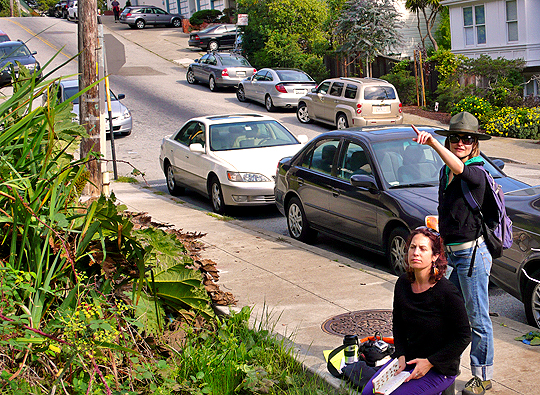 Make no mistake: Artist and self-styled "greenbelt steward" Amber Hasselbring, pictured above (pointing) along with her field-guide-clutching partner in crime (and fellow artist), Iris Clearwater, is just as enthusiastic inspecting manhole covers like the one next to her, as she is identifying a native butterfly or monkey flower. More after the jump...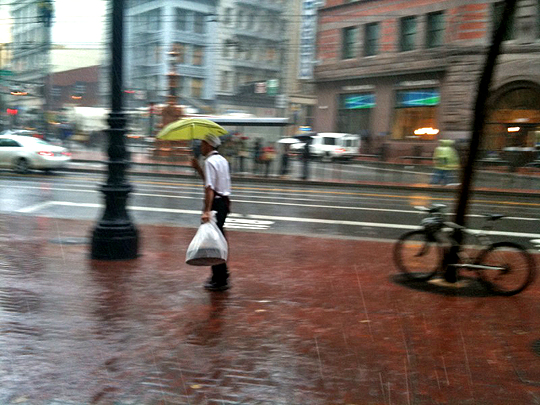 If you think the streets are bad after today's downpour, you should see what's going on underneath the streets.
San Francisco has an antiquated sewer system, but with a "green" twist. It's the only community in California that operates a predominantly "combined" system, which means our wastewater and our stormwater flow through the same pipes to the ocean/Bay. More after the jump...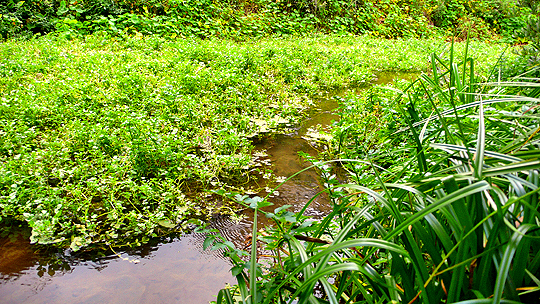 Fed by the same aquifer, but not directly connected, these bodies of water are special parts of the San Francisco watershed near the Presidio.
More after the jump...
UPDATE 4/14/2010: Via Matt Baume, from StreetsBlog:
The PUC ... proposes to terminate the creek in a manufactured wetland at the western end of Islais Creek Channel. The area is currently an asphalt lot just down the street from the headquarters of Mythbusters, used occasionally to store vehicles.
This would be a fantastic and appropriate honor for this spot. (And there is still more than just asphalt here!)
Once upon a time in 2001, there was a tiny plot of shoreline, Muwekma Ohlone Park and Wildlife Sanctuary, named after the native people who once populated the San Francisco peninsula. Guerrilla gardeners had, for years, nurtured this vestige of unlikely marshland amidst the industrial zone near Hunters Point.
More after the jump...