The Stewardship of Precita Creek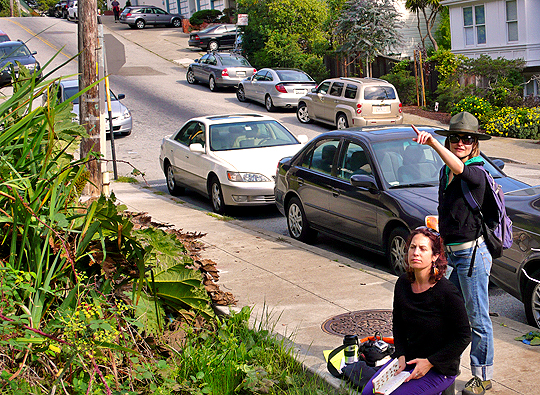 Make no mistake: Artist and self-styled "greenbelt steward" Amber Hasselbring, pictured above (pointing) along with her field-guide-clutching partner in crime (and fellow artist), Iris Clearwater, is just as enthusiastic inspecting manhole covers like the one next to her, as she is identifying a native butterfly or monkey flower. More after the jump…

That's because San Francisco's combined sewer system provides a veiled link to the natural past of the city, the sound of rushing water beneath reminding those who stop, bend over, and listen, that a network of creeks and wetlands once defined the landscape before The Octopus had its way.
The land is different now, forever changed and changing, and although the dance between industry, human habitation, and ecological health is a ridiculously complex one, Amber and Iris represent a robust movement in SF to restore native habitats wherever possible.
The principle is that – even if these individual natural areas are temporary, one day to be reclaimed for development – fostering the growth of species which relate to one another in a sustainable way can help all species, including humans, best use the land we share. The idealism is infectious, even for a cranky old coot like your author.
During a guided walk on behalf of Nature in the City that went from Noe Valley up to Twin Peaks, conversation ranged from bees to butterflies to birds and beyond. But it also covered issues like sidewalk gardens, homelessness, and the collection of citizen and government organizations that make up a diverse ecosystem of their own.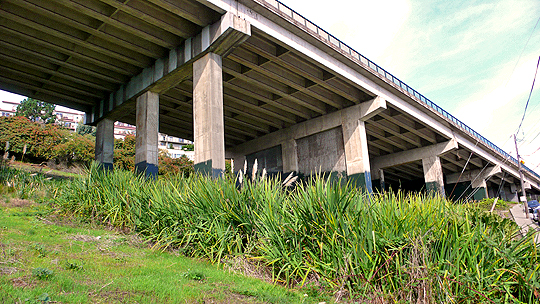 The spot shown above, under Market Street at 24th Street, is being stewarded by Amber as part of a personal effort to do what she can, through planting, monitoring, and interfacing with neighborhood residents, to restore native habitat. It's near one of the historical sources of what was Precita Creek, a tributary of Islais Creek. (The water running under 24th Street and through Noe Valley is the city's diversion of that native waterway.)
Here, it has reached daylight again, if only in trickle form: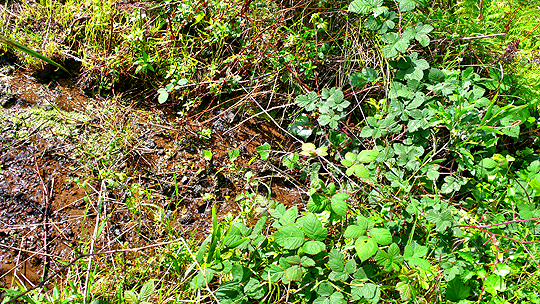 We can't really say this is the Precita Creek, since pavement and backyards uphill have changed the rates and locations of water absorption that help supply the water for this stream. The place where that water now emerges as a spring likely does not correspond to the historical spring.
But, it's the Precita Creek we have now. It's modest, and delicate, but it's there, and if Amber and Iris and lots of folks like her have their way, it will get stronger, more sustainable, and will continue to contribute to biodiversity here in San Francisco.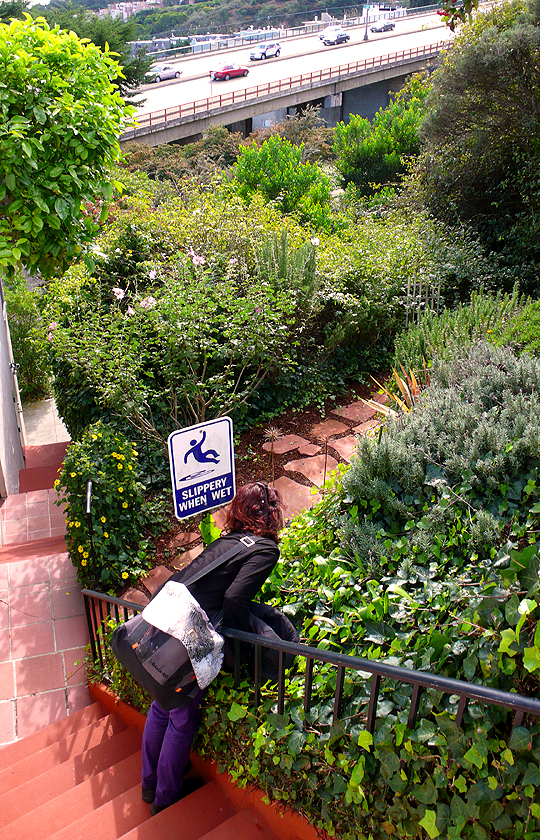 Iris leans in for a closer look at a garden just uphill from Precita Creek.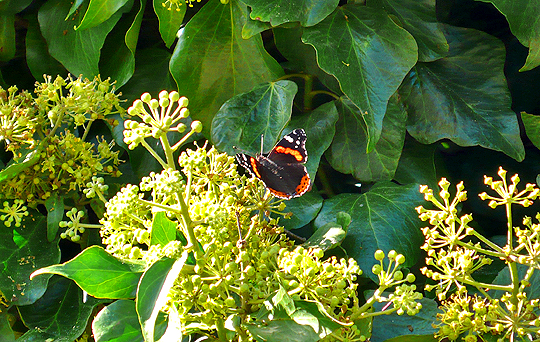 Red Admiral.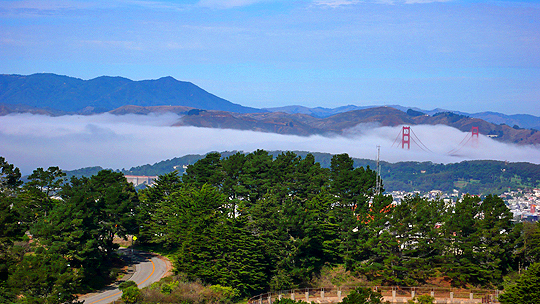 I try to avoid postcard shots, but come on, who could resist this view from Twin Peaks? Answer: Nobody!