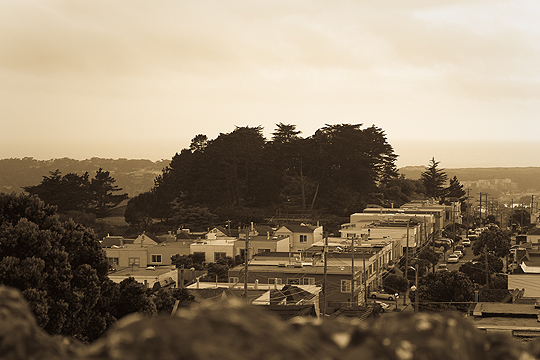 Not long ago it was a post-apocalyptic den of drug abuse, blood sport, and murder. Now, it has been re-made as a virtual Valhalla by The Mad Viking himself, Peter Vaernet, and is a tribute to the past figures who battled to make something noble out of the parcel of land atop Merced Heights.
Today, Brooks Park is a model for creative land stewardship, urban gardening, and community pride.
Peter Vaernet is a cyclone of positive energy, and has swept folks like gardener John Herbert into the storm. Together they've completed the park's dramatic adventure from its auspicious beginnings with the Brooks family in the 1930s, through its 1970s and 80s descent, to its glorious present rebound.
We took our camera into the fog to Brooks Park last weekend while they were building a temporary tomato greenhouse in the garden, and met Peter and John:
Victory of the Mad Viking, San Francisco from Spots Unknown on Vimeo.
More after the jump…
Continue reading Victory of the Mad Viking: Brooks Park