Troy Holden took a photo of a sign tacked up next to the Chinatown Banksy piece. A friend has translated it as:
Please don't file a police complaint, the cops are investigating and it will be taken down soon.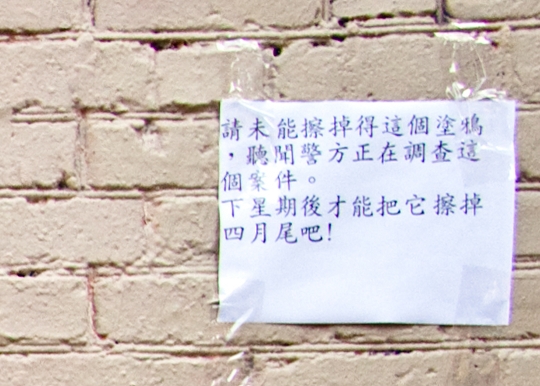 A quick call to the police indicates no report and no investigation. According to Sgt. Vinnie Catanzaro:
I'm not aware of any issue that has come up.
So, who posted this, and why?
ALSO, here's a cool new video from the site that broke this story yesterday:
Here's their very detailed Flickr set.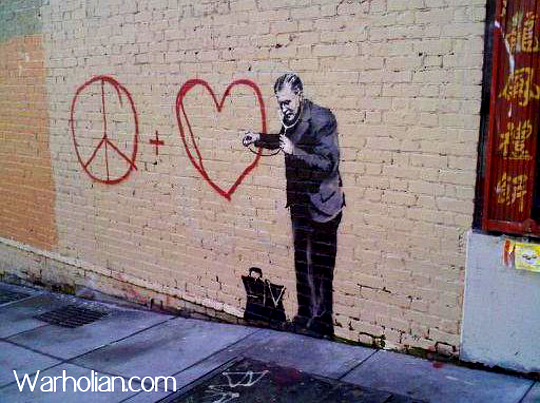 Photo by Kat Cuffe
Warholian.com is claiming it is:
Our English mate is in town fresh for the premier of Exit Through the Gift Shop his new documentary and obviously was up early this morning bombing our lovely city.
Can anyone confirm this for us? If you can spot the exact street, we can confirm in Google Streetview.
UPDATE 1: Above photo has been spotted in the photostream of this Flickr user. Still no clues on exact location, though. (Via)
UPDATE 2: Apparently, there's another one in The Mission. (Via)
UPDATE 3: Confirmed! Another Flickr user has seen the art in Chinatown and uploaded a pic: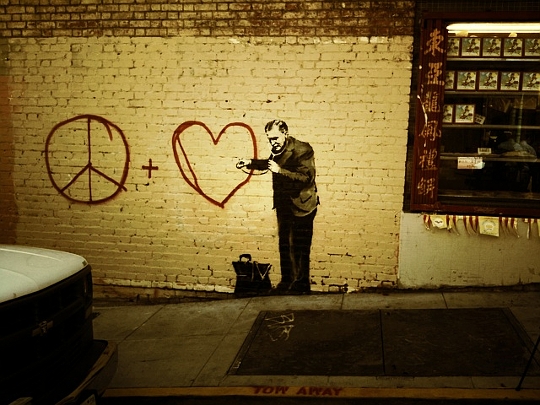 UPDATE 4: Commenter Chartno3, who seems to be the owner of the original second Flickr image, gives the location, Grant and Commercial Streets, and here we confirm that it is where claimed (who says I don't do investigative journalism?):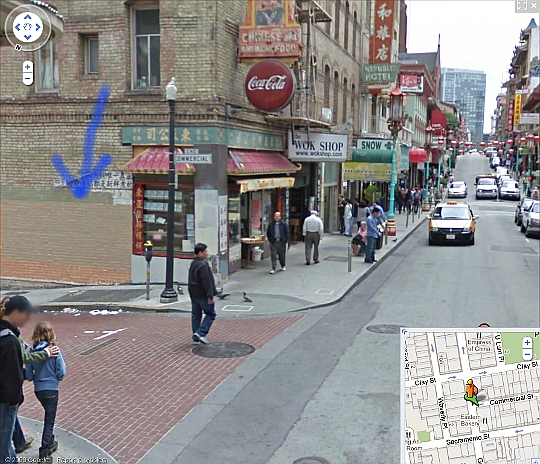 UPDATE 5: I should be clear. The only thing we've "confirmed" is that two pieces have gone up that look like signature Banksy pieces - one in Chinatown and one in the Mission. They could be copycats. One internet commenter suggests Banksy usually signs his pieces. (True or not, it would be just as easy to fake that, so I'm not sure where this leads us.)
While we're at it, one other question that deserves asking is, were these pieces done (and with or without permission) by some marketing firm as publicity for the film?
(Spotted @)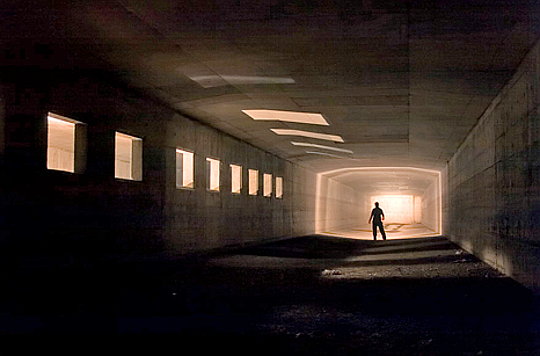 A friend recently sent me an email with a link to this single-serving site for something called "The Flâneur Society" - based in San Francisco - where I was greeted by messages like these:
THE CITY IS YOUR FOREST
WHAT IF THERE WAS NO POINT B?
The Society provides a PDF book title, Guide to Getting Lost. Fun stuff.
That's all it took: a short while later, I fell into a rabbit hole of mental confusion and frantic Googling. It quickly became clear how the 19th Century concept of a flâneur went beyond the simple definition offered by the site above - "one who wanders without destination" - and in fact intersected with tourism, street photography, infiltration, and graffiti art - which in turn became points along a spectrum from passive awareness to deviant appropriation and expression. More after the jump...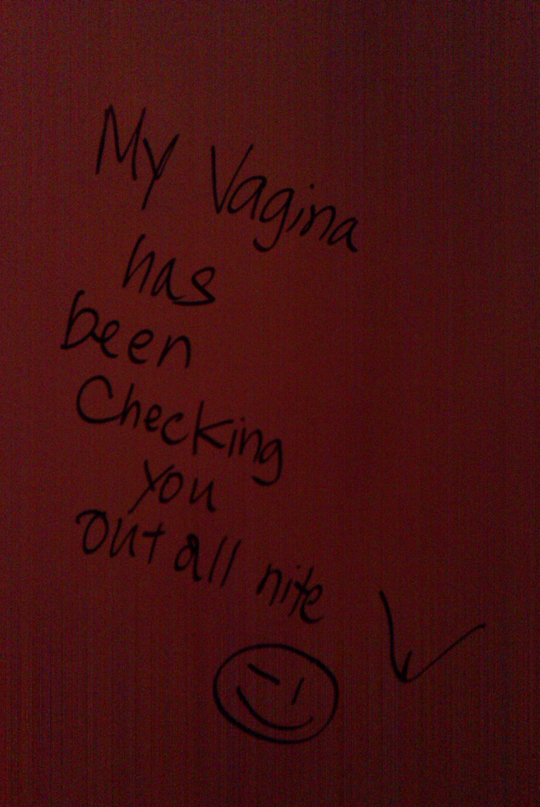 Spotted at Bar on Church.
(Thanks, Gwen!)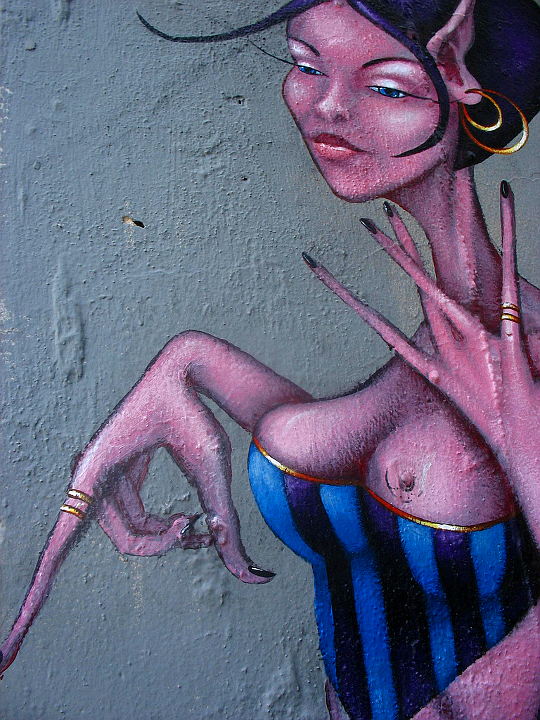 I really dig this close-up shot of the purple elven diva we linked to here. And I love seeing how she used to look (2007) before HATERS uglified her.
(Spotted @)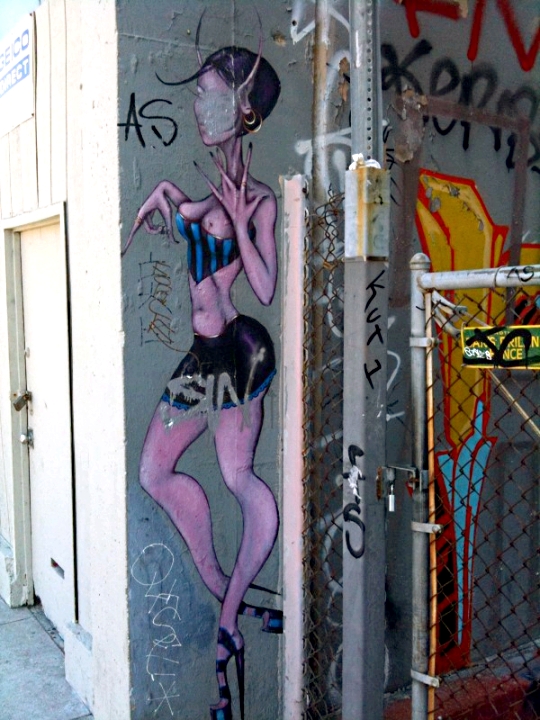 Make your guess in the comments.
UPDATE: And, BAM, commenter Lemon nailed it, the side of Alioto's, Folsom and 14th.
Even folks who think of themselves as open-minded urbanoids who can appreciate a good "mural" - unlike these wankers - will often mutter about tags as being mere marking of territory - simple, unimaginative, unskilled fuck-you-ism.
The above visualization of the motion of tagging, however, seems to challenge this notion. Anyone who's ever paid attention to the kids on Muni as they swipe their markers and fill the bus with dizzying fumes has had a chance to see this, on some level. And yet most cannot get past the criminality (or the smell).
Now they can. (There is, of course, an iPhone app.)
The prolific Bay Area graffiti artist was apparently taken downtown on Thursday.
Steven Free, 30, of San Francisco was arrested Tuesday on a $100,000 warrant, charging him in 10 felony cases in San Jose involving $40,000 in damages.

During a search of his San Francisco home, officers discovered thousands of pictures of graffiti with the "Girafa" moniker and cartoon characters of giraffes on several of his social Web sites.

"He was just causing a lot of vandalism around the Bay Area, anywhere he would find a spot, he would use this moniker," said San Jose police officer Jermaine Thomas.

Free also is also accused leaving his tags on multiple places in Alameda, San Francisco and Contra Costa counties.