New Banksy Art in Chinatown?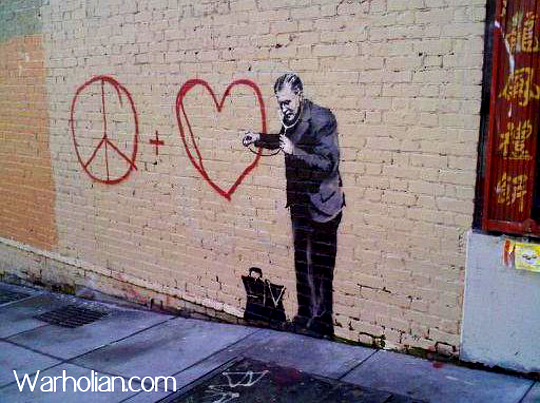 Photo by Kat Cuffe
Warholian.com is claiming it is:
Our English mate is in town fresh for the premier of Exit Through the Gift Shop his new documentary and obviously was up early this morning bombing our lovely city.
Can anyone confirm this for us? If you can spot the exact street, we can confirm in Google Streetview.
UPDATE 1: Above photo has been spotted in the photostream of this Flickr user. Still no clues on exact location, though. (Via)
UPDATE 2: Apparently, there's another one in The Mission. (Via)
UPDATE 3: Confirmed! Another Flickr user has seen the art in Chinatown and uploaded a pic: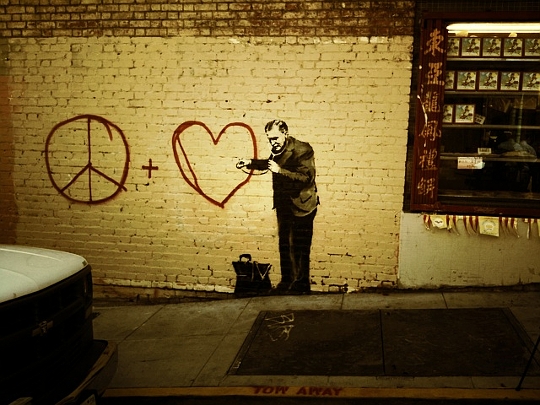 UPDATE 4: Commenter Chartno3, who seems to be the owner of the original second Flickr image, gives the location, Grant and Commercial Streets, and here we confirm that it is where claimed (who says I don't do investigative journalism?):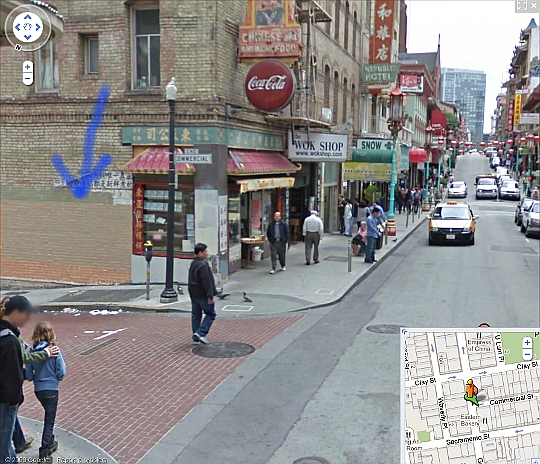 UPDATE 5: I should be clear. The only thing we've "confirmed" is that two pieces have gone up that look like signature Banksy pieces – one in Chinatown and one in the Mission. They could be copycats. One internet commenter suggests Banksy usually signs his pieces. (True or not, it would be just as easy to fake that, so I'm not sure where this leads us.)
While we're at it, one other question that deserves asking is, were these pieces done (and with or without permission) by some marketing firm as publicity for the film?
(Spotted @)