The Spitfire Rose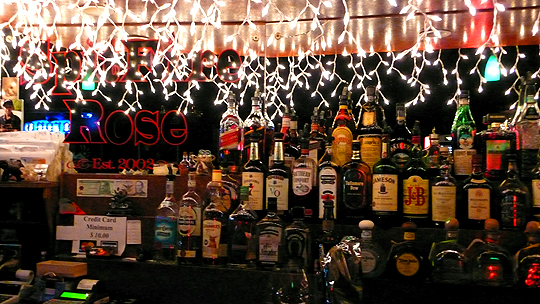 As the appeal of overlit, overcool "dives" wanes for yours truly, unassuming neighborhood haunts like Mission Terrace's Spitfire Rose (allegedly named after the British WWII fighter plane) continue to fascinate.
The Yelp page has that enticing combo of mixed experiences and low review count that raises more questions than it answers. That's all it took for the SU Corps of Urban Drunkards (SUCUD) to go on its inaugural raid. More after the jump.


View Spots Unknown Map in a larger map
It's only been the "Spitfire Rose" for a few years, but this bar has existed almost as long as the neighborhood has. GIs coming back from the Pacific theater after the Second World War, not content with their midwest hometowns, settled here and created a working-class neighborhood that still exists, despite the changing demographics (that means "Mexican" for those not paying attention) .
And while the name has changed ("Rob's," "Twilight"), one imagines not much else has. Sure, there's a newfangled internet jukebox, but those ain't flatscreen TVs broadcasting the NLCS, which i'm sure have been broadcast in the cozy tavern since back when Sandy Koufax was on the mound.
These days, owner Francisco Villalobos pours the drinks, seven days a week. He'll put Goldfish crackers in your bowl, whistle along to Santana, even warm you up a Cup O' Noodles in the microwave if you feel like the libation is getting the best of you.
The SUCUD team demanded heartier vittles, though, so Francisco tipped us off to another jewel of the neighborhood, Roxies Fine Foods, whereupon one could grab sangwiches which our host assured us were, despite our ignorance, famous.
Roxies is actually a pretty good emblem of the paradox of Mission Terrace. It's a bodega that would seem more appropriate to the more urban areas of the city, and yet a chain would be even LESS of a fit for this 'hood. And while there's a Popeye's not too far away on Mission Street, you kind of appreciate the impact of the city's intolerance for chains even more in areas like this, where there's not an army of white, privileged anti-colonialists to battle against such developments.
But compared to the picture of Roxies' owner above the counter, this is all trivia: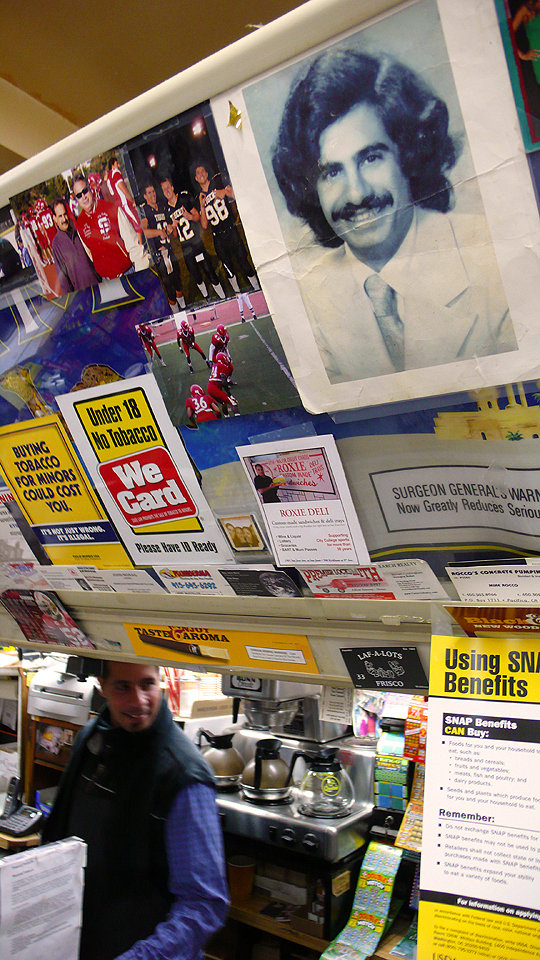 What would happen if Borat and Mr. Kotter cloned a baby together?
We returned to the Rose and to a disbelieving Francisco, who we guessed had assumed we weren't coming back to close our tab. But we settled in for more tequila-and-beer while eating our grub and making offhand earthquake contingency plans in tribute to the Loma Prieta anniversary. Francisco joined us for a shot and seemed to be getting into The Doors on the jukebox.
Later, waiting for the J-Church at the stop conveniently located across the street, we watched Francisco standing forlornly in the doorway looking out, and wondered about his working-class ethic and the viability of his working-class bar. Would it last?
We hoped so. It's good to know the Spitfire Rose is there.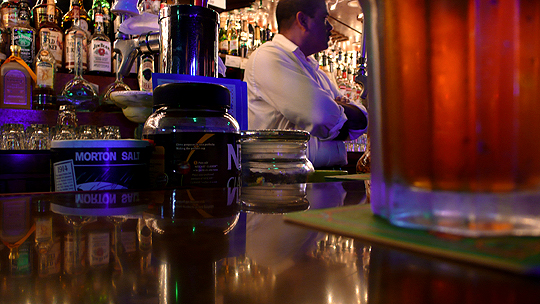 Got drinking stories from your visits to Spitfire Rose? To the comments!