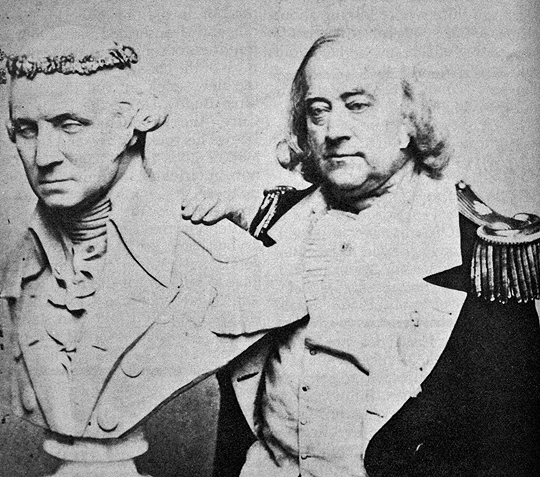 George Washington the Second beside a bust of his namesake. (I think he looks more like Ben Franklin.) Image courtesy San Francisco Public Library.
His Imperial Majesty, Emperor Norton I, in addition to being the prototype of Frank Chu, is credited with visions of a suspension bridge across the Golden Gate (some suspect this to have been made up by others later) and a tunnel toward Oakland before those ideas were considered sane.
There were other eccentrics who paraded San Francisco's streets in the 1850s and 60s, but for some reason the only one we still celebrate is Norton. It is a monopoly that he, above all, would have cherished; but just like his attempt to corner the rice market in 1852 which eventually sent him over the rainbow, this monopoly may not last.
Submitted for your approval: Frederick Coombs, a.k.a., "George Washington the Second." Learn all about him after the jump…
Continue reading Emperor Norton vs. George Washington the Second