Photos of San Francisco in 1939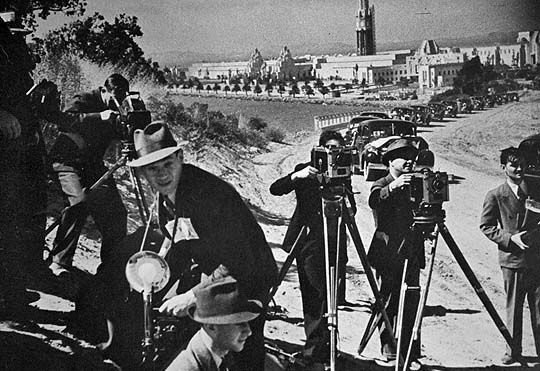 1939 was a big year for San Francisco, during which it attempted to convince the world that it had fully recovered from the catastrophes of 1906 and was once again a city to be reckoned with. Completion of the Bay Bridge and the Golden Gate Bridge was punctuated with the International Exhibition on Treasure Island.
For one photographer/photojournalist, that year left a lasting impression.
The photographer's name is Seymour Snaer, and the images were published in 1980 in a book titled, San Francisco 1939: An Intimate Photographic Portrait. Snaer had over 100 rolls of film from that one year, so publisher Bill Owens reprinted select shots from negatives, rescuing them from the bad cropping done by newspapers like the Examiner, who Snaer had worked for.
I've Googled around and not found much mention of the man, nor have I seen any of his images. The (used) book is listed on some sites, but none even have the cover image (above).
I'm including just some of the photos (in low-res format taken with my camera), and the captions that go with them. Additionally, I've excerpted some text from the body of the book. The writing has a raw feel to it; you can tell it was written by someone who doesn't write, but really has something to say.
Some of the highlights: Real fishermen using nets in the Bay; Belt and Southern Pacific trains; view from Twin Peaks; Sally Rand's Nude Ranch (NSFW); ski jumping on Treasure Island; auto polo.
Tip of the hat to Jonathan at Viracocha for gifting the book to me (that was a very kind way to get me to stop bugging you about your fantastic shop).
The above image is from the cover, portraying still and movie photographers capturing President Franklin Roosevelt's motorcade who came to see the Expo before it opened, in '38. Snaer writes:
Two of the guys in the bunch were very famous newsreel cameramen in the '30s, Joe Rucker and Frank Vail. They used hand-crank cameras … I had big bulbs and all of a sudden – a bulb exploded! Secret Servicemen ran all over the place. It really embarrassed me. [p. 24]
The following images and text are all directly from the book. (Keep in mind that when he says "today," Snaer means 1980.)
Note: I'm pretty sure the copyright, originally reserved by Snaer himself, isn't being actively enforced, but in case it is, I'm only posting low-res images, and will gladly remove them if a rights-holder contacts me. Check out the photos/text after the jump…

Page 3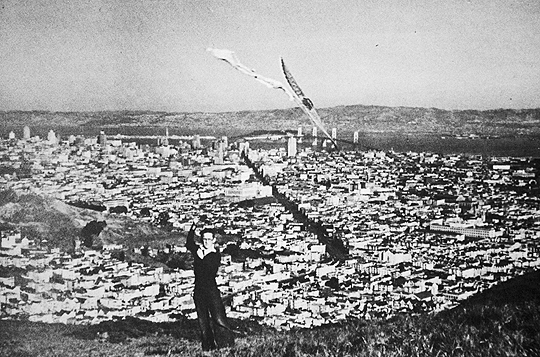 View from Twin Peaks
You can see Treasure Island in the background not as it is today with the Financial District blocking the view. The kid was up there with a kite … and a beanie … kids in those days wore beanies.
Page 4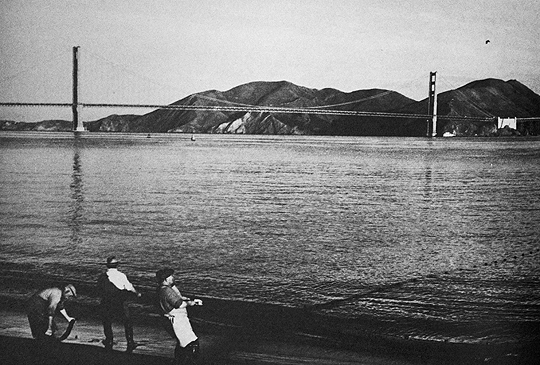 Fishermen at the marina
Many sights you never see anymore … fishermen caught herring early in the morning on the beach.
Page 5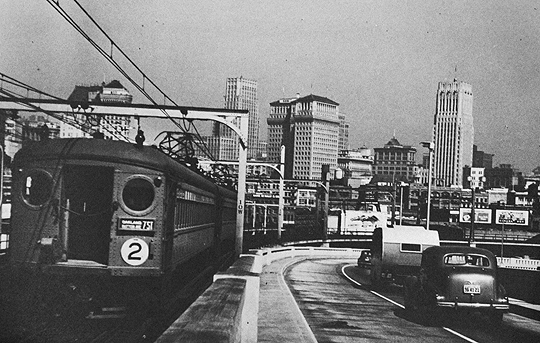 Southern Pacific electric train across the Bay Bridge
Page 12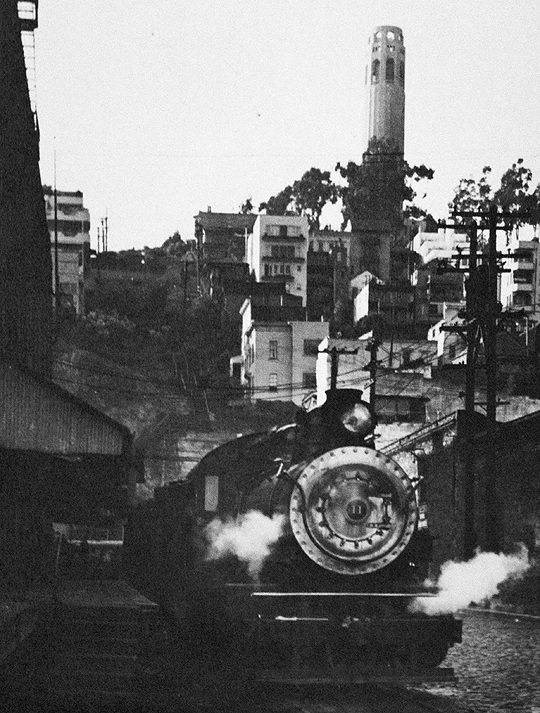 Steam train, California Belt line
A steam locomotive, the California Belt Line, fired by coal went around the docks bringing goods from the ships to the old warehouses. They still do it [!], but they don't use that type of engine.
Page 16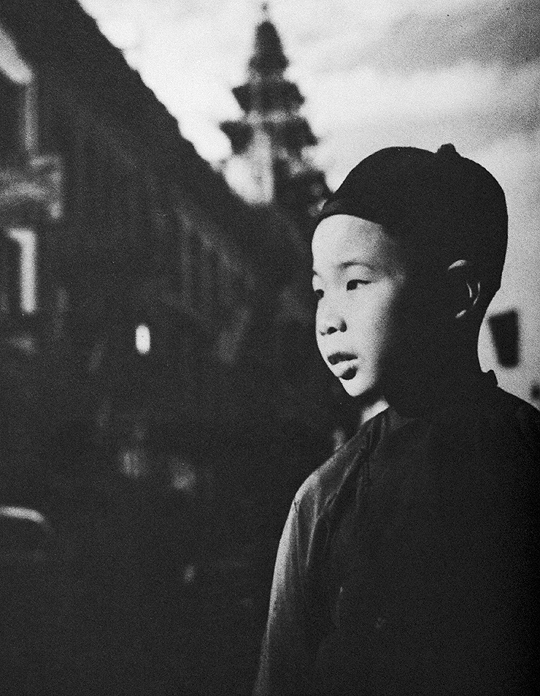 Boy in Chinatown
Page 28-29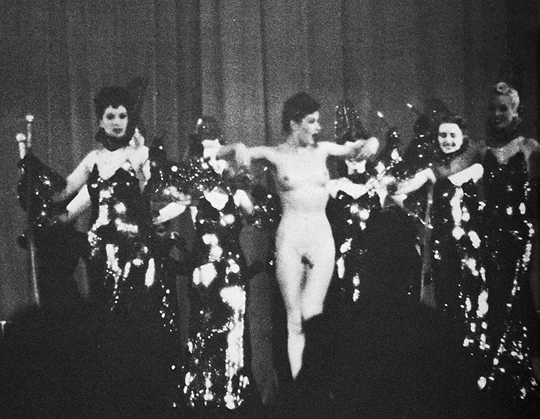 International Exposition
They were the prettiest girls in Europe. It was the top show in the theatre building. You weren't supposed to take any pictures inside so I made a sneak shot at the end. I had a 1.5 lens on my camera. You had to really work to get a shot like that. It's entirely different with today's fast films, but that was an accomplishment.
Page 32-33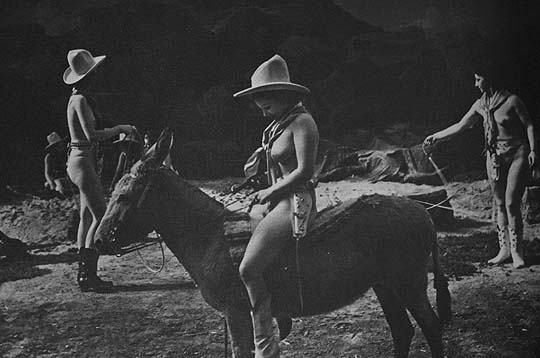 Sally Rand's Nude Ranch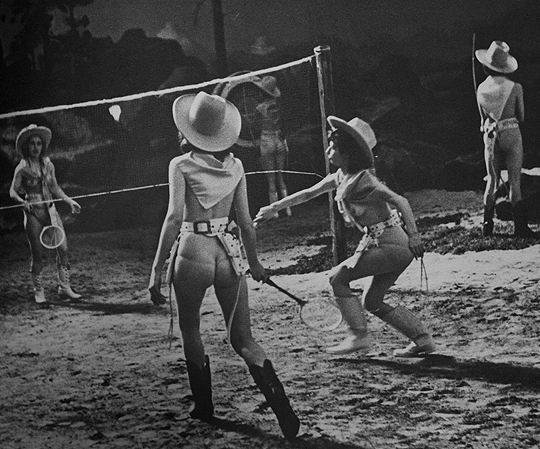 Sally Rand's Nude Ranch
Sally Rand, the queen of the Fan Dancers, was supposed to be the place to go when you went to the Gayway. She was never there – her name was on the marquee outside. The women were on exhibit, pretending to do anything that you would do on the ranch … frying eggs, twirling a lasso. There was a fence around the stage, which was painted with Western scenes. Later people objected to that kind of thing, and made them cover up. It wasn't Sally Rand's nude ranch anymore. The name was still the same because it was one of those permanent signs out front. But if you went inside, the girls were partly covered.
Page 34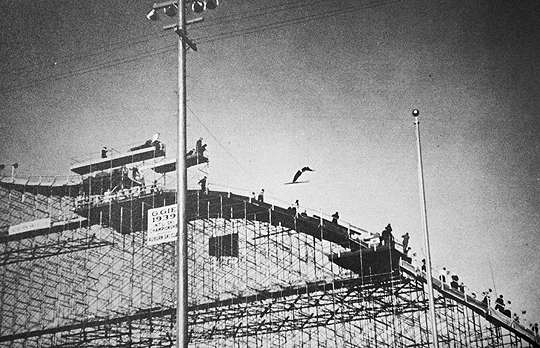 International ski championship
The question would be "Where was the snow?" if you made a bet in a bar about the International Ski Championship held in San Francisco in 1939. They brought in a load of artificial snow and built this whole thing. It was sponsored by the Auburn Ski Club.
Page 36-37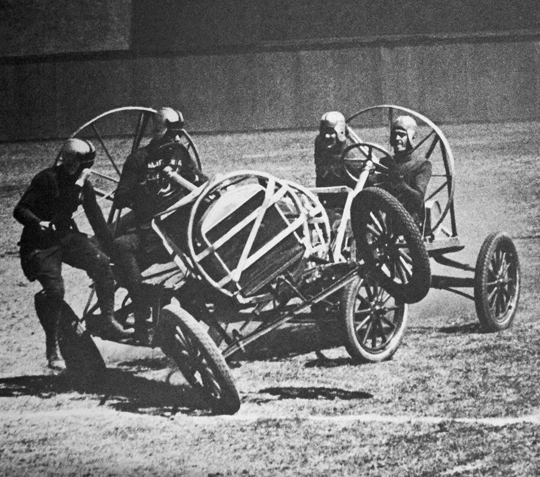 Auto polo
They had mallets and a basketball as a polo ball. The idea was to make the cars roll over … both guys had to jump out and then the car would go over [at least they have helmets on].
Page 46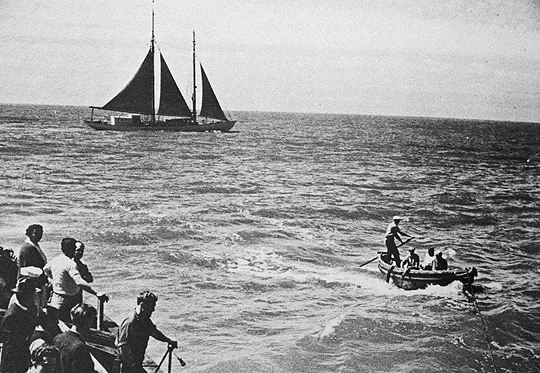 Mailboat, off the Farallones Islands
Page 48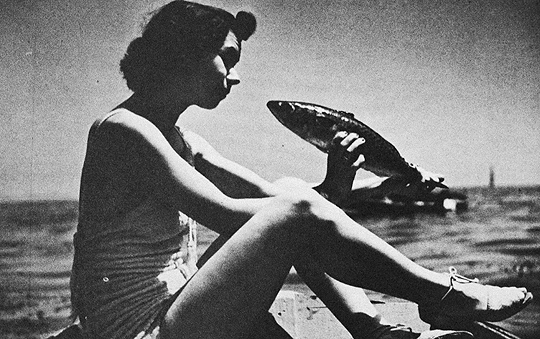 Flora Snaer and friend
Follow SU on Twitter.
UPDATE: I found this obituary for him, from this web page:
Mr. Snaer, an only child, was born in Oakland. He received a bachelor's degree from UC-Berkeley in 1933, and worked as a freelance photographer from 1936 to 1943. In 1937, Mr. Snaer took the first natural action shots of a track meet for the New York Mirror, according to Who's Who in California. Mr. Snaer joined the Examiner in 1943 and remained there until his retirement in 1978. In one of his prize-winning photos, titled "I'll be OK, Mom," Mr. Snaer captured a poignant moment in 1952 as a Marine sitting in a wheelchair leaned forward to embrace his mother upon his return from the Korean War. One of his photos, of a terrorist bombing at a San Francisco church in the 1970s, is included in "10,000 Eyes," a book published by the American Society of Media Photographers. Flora Snaer said her husband happened by chance to be in a perfect position to take that picture, after someone shooed him toward the sidewalk. He was there to take photos of a policemen's funeral. When the bomb exploded in the doorway, all the other photographers had to turn away and shelter themselves from the flying debris. Not Seymour. "He got the picture," Flora Snaer said. Mr. Snaer was also known for his Kodachrome color photographers for the 1939 World's Fair, which took place on Treasure Island. Denise Snaer-Gauder, Mr. Snaer's 43-year-old daughter, remembers serving as a "model" in some of her father's staged newspaper photographs when she was young. In one photo, she was the little girl hanging up her Christmas stocking. In another, she was playing in a schoolyard while a suspicious-looking man lurked nearby. Snaer-Gauder said her father was always ready to dash off in an instant to get a photo. He left his police scanner on all night, so he could hear any news bulletins as they were announced, and he always drove around with a couple of cameras in the car. Fran Ortiz, a retired Examiner photographer, said Mr. Snaer befriended him when he joined the staff as a rookie in 1962. Ortiz remembered the days the two photographers covered the Free Speech Movement at UC-Berkeley in the late 1960s. "It was war on Telegraph Avenue, and there was Seymour, right in the thick of it, getting remarkable images," Ortiz said. Ortiz described Mr. Snaer as a "true professional," someone who used his creativity and talent to make many memorable photographs – on deadline. "He was an inspiration to me," he said. Ortiz also remember Mr. Snaer's keen sense of humor. "In my image of him, Seymour always has a smile on his face and a pipe in his hand," he said.