I just spent way too much time immersed in this post-earthquake-and-fire aerial photo of SF. You will too.
Photographed by George R. Lawrence with a kite a few weeks after the disaster:
It is a 160-degree panorama from a kite taken 2000 feet (600 m) in the air above the San Francisco Bay that showed the entire city on a single 17-by-48-inch contact print made from a single piece of film. Each print sold for $125 and Lawrence made at least $15,000 in sales from this one photograph. The camera used in this photograph weighed 49 pounds (22 kg) and used a celluloid-film plate.

Image from City by the Blog
Is it the best ever, as claimed by Oscar Lewis in the Forward? Debatable. This essay repeatedly commits the sin of calling it "Frisco." At least it does so self-consciously:
Before the crash and flame, Frisco was beginning to protest at being called anything but San Francisco. Yet Frisco clung, it held some winking, sly hint of frisky. Even the great black headlines over the evil news used the diminutive abbreviation like a touch of light in the cloud, a sort of fresh, smiling rose on the pall, speaking of resurrection.
Additionally, it was apparently penned by someone who'd never been to SF. It's still an amazing piece of writing. So there. Read it all after the jump...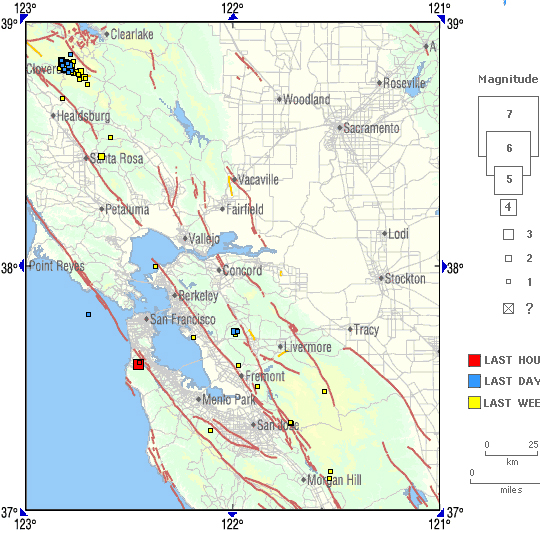 Exactly 105 years ago, the earth shook. Yeah, kind of like that. (Well, not really like that.)
But thanks, San Andreas Fault, for pitching in to help us all celebrate the Big One! We feel you really care.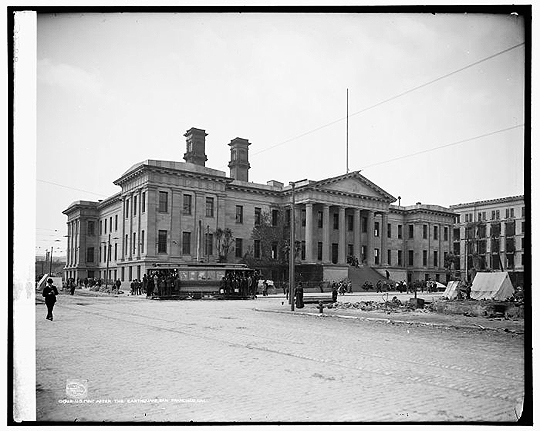 Is that guy in the bowler hat checking his iPhone?
Image courtesy US Library of Congress.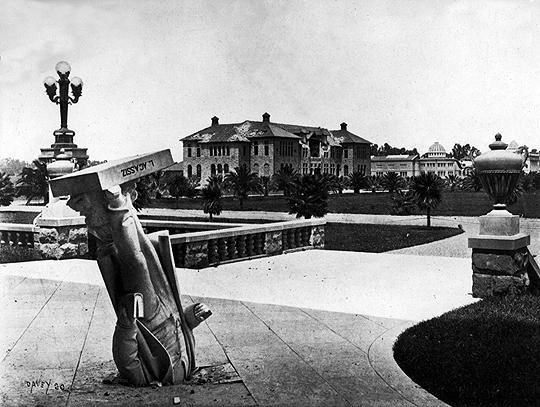 This statue on the Stanford University campus just couldn't take it any more.
Image courtesy of U.S. Geological Survey Photographic Library.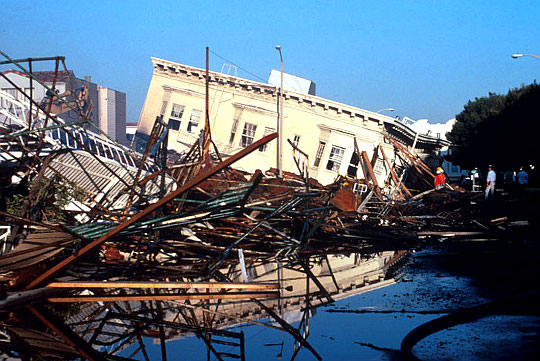 A great post on MissionLoc@l today reveals a brutal and likely scenario:
"We've done the calculations based on Loma Prieta," the instructor says, an image of a large fireball on the screen behind him. "In a major earthquake with just winds of 10 miles per hour, we'll see 71 large fires, 40 major rescue operations. We'll need 273 engines.

"We don't have those," he says, flatly. "So where are we going to get the help?"
That would be the folks themselves - those of us who live in the affected neighborhoods.
If this article doesn't make you want to take NERT or CERT training, it will probably at least make you think again about how to take care of yourself in the case of an untimely shake.
And let's face it, it seems like everywhere but Northern California has been hit lately, so our number is due to come up soon.