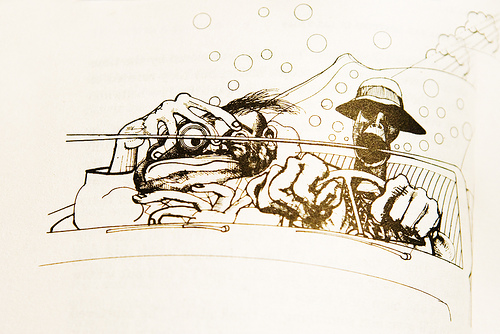 Inspired by my 51-day trip last summer across Central Asia by car, I've committed to an automobile adventure this year to the center of the US.
It's marked by a plaque on a pedestal, built by the National Geodetic Survey. It is near a town called Lebanon. In Kansas. The plaque reads:
The GEOGRAPHIC CENTER of the UNITED STATES
LAT. 39°50' LONG. 98°35'
NE 1/4 - SE 1/4 - S32 - T2S - R11W
Located by L.T. Hagadorn of Paulette & Wilson - Engineers and L.A. Beardslee - County Engineer. From data furnished by U.S. Coast and Geodetic Survey.
Sponsored by Lebanon Hub Club. Lebanon, Kansas. April 25, 1940.
Several other teams, each starting in different parts of the country, will meet up with me and my wife on July 6th in Kansas to drink whiskies and swap stories, after visiting a list of required waypoints plus making a few discoveries of our own.
Follow us in real time, and join the trip by seeing it through our eyes in video and photos, which we'll upload as we make.
As with any great adventure, the destination is just one more point, the last one. But the points that come before, and how you get to them, make up the fertile lands of serendipity and breakdowns, thirst and charity, unreachable horizons and a thousand tiny triumphs.
So we'll not stick to the highways, but zig and zag as much as possible, searching for the treasures that usually whiz past in a blur on the way to the next gas station. And on July 4th, we'll be in some random town near the middle of America. And why not?
Wish us luck!
Pre-Summer Sunday in Dolores Park from Spots Unknown on Vimeo.
Unknown? Admittedly, hard to make that case.
I mean, I could weave a clumsy tapestry of ugly logic suggesting that, even in spots that are "familiar," elements of those spots can still reveal themselves - how much is truly "known" of any spot? And when you're at Dolores Park, do you have any clue what's happening a few hundred feet away?
Furthermore, time changes everything. Maybe we're documenting DP for future times, after The Big One, when the park will have long become a memorial to those brave hipsters who tumbled into a fiery chasm while texting or shotgunning beers. "In Your wisdom, Lord, You took them... So say we All..."
But, to be honest, this is red meat and we know it.
Shot last Sunday, May 2nd, this video is the first collaboration between myself and hotshot local video dude, Daniel Jarvis. Daniel was featured around the blogs a while back for his stunning footage of Dia de los Muertos. Give him some love:
Document Document
Welcome to the Stage
We're going to be producing a series of video pieces providing off-angle views onto the spots we cover, so stay tuned here, or follow our Twitter and Vimeo feeds.
The music in this video is "You Hid" by Toro y Moi.