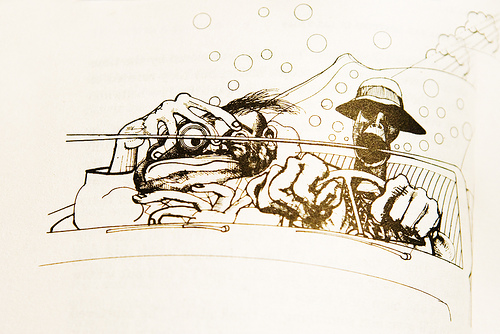 Inspired by my 51-day trip last summer across Central Asia by car, I've committed to an automobile adventure this year to the center of the US.
It's marked by a plaque on a pedestal, built by the National Geodetic Survey. It is near a town called Lebanon. In Kansas. The plaque reads:
The GEOGRAPHIC CENTER of the UNITED STATES
LAT. 39°50' LONG. 98°35'
NE 1/4 - SE 1/4 - S32 - T2S - R11W
Located by L.T. Hagadorn of Paulette & Wilson - Engineers and L.A. Beardslee - County Engineer. From data furnished by U.S. Coast and Geodetic Survey.
Sponsored by Lebanon Hub Club. Lebanon, Kansas. April 25, 1940.
Several other teams, each starting in different parts of the country, will meet up with me and my wife on July 6th in Kansas to drink whiskies and swap stories, after visiting a list of required waypoints plus making a few discoveries of our own.
Follow us in real time, and join the trip by seeing it through our eyes in video and photos, which we'll upload as we make.
As with any great adventure, the destination is just one more point, the last one. But the points that come before, and how you get to them, make up the fertile lands of serendipity and breakdowns, thirst and charity, unreachable horizons and a thousand tiny triumphs.
So we'll not stick to the highways, but zig and zag as much as possible, searching for the treasures that usually whiz past in a blur on the way to the next gas station. And on July 4th, we'll be in some random town near the middle of America. And why not?
Wish us luck!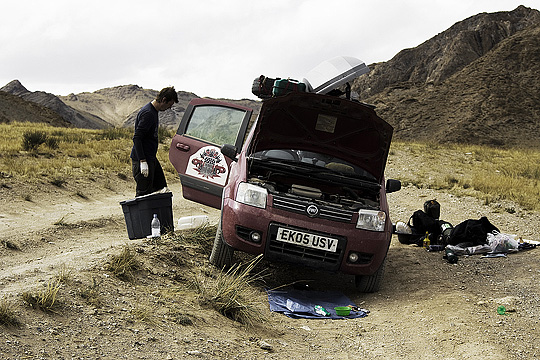 It took two of us 11 days in a 1.2L Fiat Panda to get from the Russian border to the capital city of Ulaanbaatar, but you can do it in 4 minutes thanks to the dashboard cam that recorded it all. Experience the roadlessness, the bandits, the breakdowns, the yaks, and the camels, without ever having to figure out how to steer and shift a right-driving mini-car through some of the remotest land on the planet. And see it out the windshield just like we did.
The trip started last July with us flying from San Francisco to London and buying a car to run in the Mongol Rally. The next video will take you from England to the border of Mongolia - 40 days of driving in 5 minutes - under the British Channel, over the Caspian Sea, through Eastern Europe, Turkey, most of the 'Stans (Kazakhstan!), and Russia.
During that long haul, my teammate and I talked about doing something in America. And so, this summer I'm organizing a car rally here in the States, a road trip where each team goes on its own route of discovery armed with cameras and mobile technology, and they all meet up for a party at the geographic center of the country (it's in Kansas). Follow it online, or join in!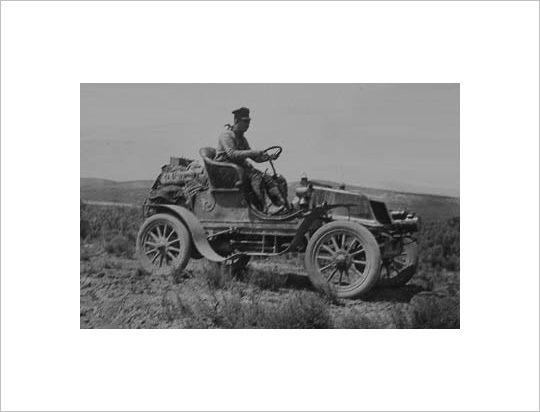 1903 was a big year. The Wright Brothers invented the first powered airplane. The first transatlantic telegraph cable was laid. The first wireless radio signals were transmitted across the Atlantic.
These were all advances that allowed humans to defeat distance. But as if these weren't sufficient, 1903 was also the year that a man in San Francisco took a bet, and invented the Great American Road Trip.
The "horseless carriage" had yet to convince anyone that it was anything more than a passing fad. And the $50 wager that Horatio Jackson couldn't drive one from SF to New York was sound, since there were no gas stations, no 7-Elevens, and no paved roads.
But he made it. Ken Burns did a documentary about it in 2003.
I discovered HJ's awesome ride while researching a new project that I plan to begin this summer. Stay tuned for more details.
The town is called Giresun. This time lapse video is from the second night of Ramazan. The call to prayer is being sent out from the minaret glowing green on the left.
Here are my photos, and here is the site for my team's Mongolia trip, where you can track us in real time.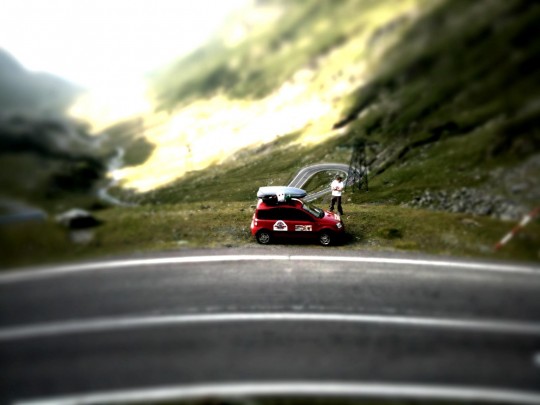 Here are a few shots I've kept from the trip so far.
We have a Spot GPS strictly for tracking our progress and gathering data about our trip, but we navigating the old fashioned way - with bad maps and lots of u-turns.
You can follow us at the blog, or on Facebook.
For access to all of my photos and videos, friend me. (I'm posting primarily to FB for now to save on redundant uploading.)
Things will only get weirder from here.