Drive Across Mongolia in 4 Minutes (video)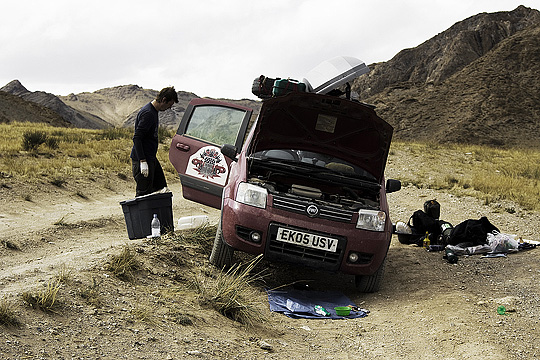 It took two of us 11 days in a 1.2L Fiat Panda to get from the Russian border to the capital city of Ulaanbaatar, but you can do it in 4 minutes thanks to the dashboard cam that recorded it all. Experience the roadlessness, the bandits, the breakdowns, the yaks, and the camels, without ever having to figure out how to steer and shift a right-driving mini-car through some of the remotest land on the planet. And see it out the windshield just like we did.
The trip started last July with us flying from San Francisco to London and buying a car to run in the Mongol Rally. The next video will take you from England to the border of Mongolia – 40 days of driving in 5 minutes – under the British Channel, over the Caspian Sea, through Eastern Europe, Turkey, most of the 'Stans (Kazakhstan!), and Russia.
During that long haul, my teammate and I talked about doing something in America. And so, this summer I'm organizing a car rally here in the States, a road trip where each team goes on its own route of discovery armed with cameras and mobile technology, and they all meet up for a party at the geographic center of the country (it's in Kansas). Follow it online, or join in!