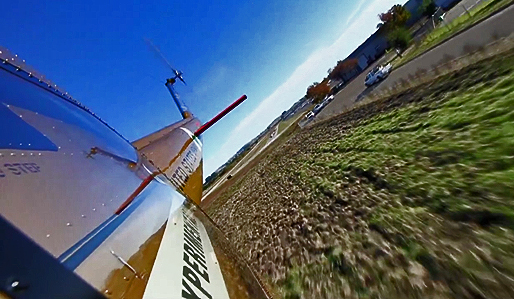 The video below is a teaser from a video project I'm working on for a group called HueyVets.com.
The featured aircraft – the Bell UH-1H Iriquois – is the main reason Vietnam is often referred to as the "helicopter war." And this rag-tag group of Bay Area guys is trying to preserve the unique experience of flying one in combat in America's most lesson-worthy military entanglement. How do they do that?
Founder Geoff Carr has sunk a small fortune into acquiring and restoring to combat specs this aircraft, and it serves as a living, flying museum. From its homebase at Bud Field Aviation in Hayward, CA, they buzz veterans events and wow anyone within earshot on the ground. (The Huey makes a distinctive whop-whop-whop that almost anyone can recognize.)
What makes this group truly special, though, are the guys themselves. Some served in Vietnam, some are sons of those who served, and some never served at all. But they're all in love with this Huey and what it represents. (Frankly, after spending a day in the sky with it, so am I.)
This is a war machine, however. The guys who caretake it struggle with the conflict between their love for the aircraft and their nuanced views of war itself, which are very, well, Bay Area. As I learn more about them for a longer-form web doc, I can appreciate the vets' desire to honor their wartime experiences while refusing to deny their complicated feelings about the politics that forced them into adventures both righteous and heinous.
Carr experienced intense PTSD when he returned after combat, and the Huey Vets project is partly a way for him to create positive meaning around a trauma that will never in itself make any sense.
Wayne Terry, the San Franciscan who does PR and fundraising for the group, dealt with the unthinkable experiences of his Vietnam combat days as a Huey mechanic by placing it in a drawer that would not be opened again for over 30 years. Some of his closest friends had no idea he'd been in the military until he got involved with Huey Vets in 2004.
Further complicating this group is the nature of the Experimental Military Unit (EMU) they served in – it was the only fully-integrated unit in the war, with a mixture of US Army and Australian Royal Navy, and they provided a lot of support to the Army of the Republic of Vietnam (South Vietnam). This meant that Vietnamese infantry flew side-by-side with US flight crew aboard EMU Hueys.
It's a fascinating bit of history. If you know of someone who'd like to contribute funds to keeping this beautiful aircraft and its legacy alive in the sky, send them over to HueyVets.com. Or just go there to get some education for yourself.