Some great San Francisco locations as well.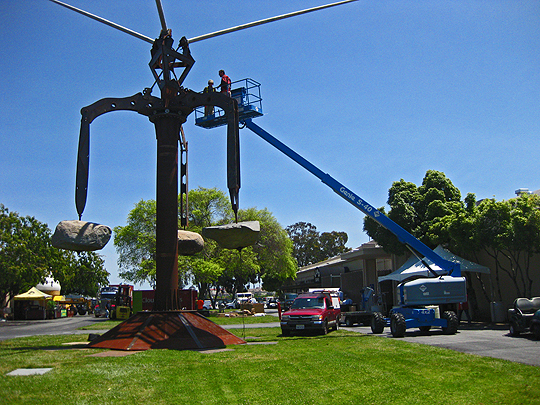 Photo by Matt Richardson
I'm proud to have been on one of three teams shooting over 100 of the best projects at this year's Maker Faire. The centerpiece was Colossus. This assembly time lapse gives a good feel for its size and presence, but it's not the same as seeing it on-site. Although, standing next to it means you don't get time lapse!

Shot by Nat Wilson-Heckathorn
Our boy, Daniel Jarvis, is covering Halloween this year, but this piece he did a year ago should tickle you nonetheless. Stay tuned for his latest...
You will be singing the ridiculous chorus for hours, I promise.
I'm unsold on whether Abraham Linkin is "an unpredictable, unapologetic and extremely creative Alternative Comedy Hip Hop duo," but I will say this: Daniel Jarvis cut one helluva video for their ode to bargain shopping.
You can't go wrong with such great San Francisco locations, funny interaction with the streets, a catchy hook, and solid editing skills.
"Pots for mah kitchen!"
UPDATE: Just realized Uptown Almanac blogged a low-res version of this yesterday.
I'm sure weirder things have happened at Dolores Park. But the weirdness combined with being four stories up on a bright, sunny day, really pushes this encounter into the red.
I was at home being all Sundayzee and thought about ignoring Daniel Jarvis' call at first, but then answered...
Jarvis: Dude, crazy dancing chicks on a rooftop! Bring your camera!
Me: I was gonna take a nap.
Jarvis: I said crazy dancing chicks on a rooftop! You're two blocks away! Let's go up there! With the camera!
Me: How do you know they even want us up there?
Jarvis (calling up to rooftop): Hey! Hey, down here! Can we come up and film you? We have a camera! Can we? (to me) They said we can go up there!
Me: Okay, Okay...
I think it was worth it.
UPDATE: The song is "Go Do" by Jonsi. Video shot and edited by Jarvis.
Street hustler "DaVinci" raps his lament about the degradation of his turf in Western Addition/Fillmore. Use headphones, there's naughty language (the video is SFW).
Before you dismiss the lifestyle when you hear, "Used to sell ice, weed, coke all night there / now they got cameras and the po-po right there" - learn a little about the history of West Addy. It won't kill you.
I moved from the Divis/Grove area of the neighborhood in 2005 and it was still one of the rare San Francisco spots where middle-class African-Americans owned homes alongside non-black yuppies. But even then, dopenomics and gang turf disputes generated gun deaths and regular high-speed police chases.
What's it like these days? Current residents speak up in the comments.
(Spotted @)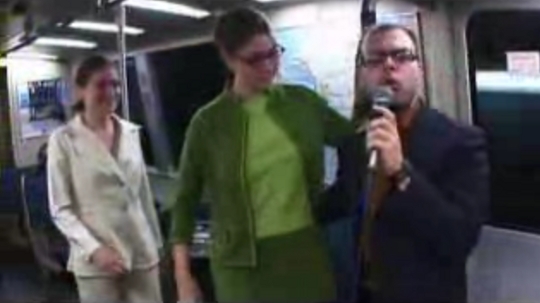 In the name of lusting after music videos shot on San Francisco mass transit vehicles, I hereby make my contribution, with one of the best no-name hip-hop songs of all time.
"Yo, air-play, who tha fuck needs that? I just pump mad tracks on my por-ta-ble DAT!"
Jane at Uptown Almanac tries hard to make a San Francisco connection to this undeniably funky, adorable video. Alas, I cannot concur.
The stop they get off at is "Venice," and there are palm trees and a Hollywood sign...